One word describes today and that is Whoa. When I indicated on Sunday's Market Direction outlook that I expected a repeat performance of selling I had no idea we would see the market sell off. Toronto on the other hand I expected to be off due to the resource base stocks in the index. As the day has progressed though New York is quickly catching up with Toronto.
Market Direction Plunges Along with Gold
Gold' plunge today has set a record matched only in 1980 when gold began its long plunge into a severe bear market. I recall the 1980 plunge as I had been investing in the mid 1970's during what can arguably be called the worst time for stocks. The market plunged in 1974 on the oil embargo and gold finally took off in 1979 but plunged a year later. You can read more about the 1980 collapse here.
Today's market direction though caught me a bit off guard. I sold puts on a variety of stocks including my Apple Biweekly Put Selling strategy and I was too early. I could have picked up an additional 20% in put premium (about $400) if I had just waited. For FullyInformed Members you can read about today's Apple Stock biweekly Put Selling here. I may have to roll these lower.
Gold's plunge is spectacular and typical of a blow-off. I am sure there will be rallies back but they will be trading opportunities only. ABX stock meanwhile is trying to hand onto support at $20.00. This represents very long-term support in that stock. I rolled down this morning and sold naked calls to end up with a $100 gain on the roll down. Now I am sitting at $20.
S&P 500 Market Direction Daily Chart
I didn't think things looked too bad in the morning but just before 11:00 AM the market seemed to be unable to recover. I bought Spy Put Options just in case the weakness was going to be longer than I expected. You can see that the market tried three times to find a bottom for the day but by 2:00 PM I thought the selling was overdone so I sold my Spy Put Options. I could be wrong and this could turn into a bigger down day.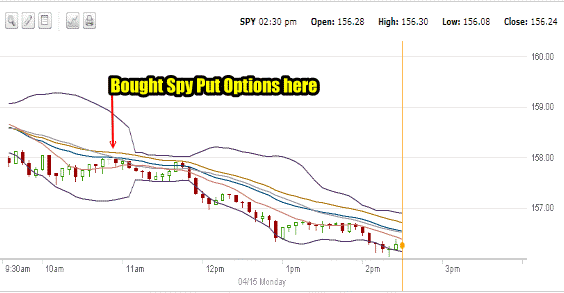 Market Direction Outlook Intraday and Strategy for Apr 15 2013
The market direction tumble is greater than I expected. I had thought a 7 point move lower on the S&P was warranted but investors were not thrilled with the news out of China, the drop in oil, rise of the US dollar and the plunge in Gold. Too many things for investors to handle and they sell out.
Put Selling is about opportunity and I took opportunity in some stronger stocks like AT&T Stock, some Canadian Banks and I rolled lower my ABX Stock and set up my Apple Stock, which was too early. Overall though I am sitting well with a lot of puts well out of the money at the moment.
There is no point is Put Selling many stocks further until I look at the market tonight to see if there is more selling ahead or this is a reaction to today's events and we hold the ground here.
More on that at tonight's market direction outlook.
Internal Market Direction Links
Profiting From Understanding Market Direction (Articles Index)
Understanding Short-Term Signals
Market Direction External Links
Market Direction IWM ETF Russell 2000 Fund Info