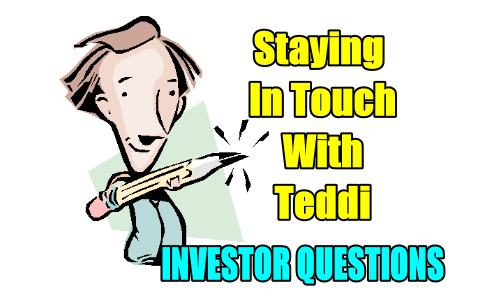 I receive a lot of emails asking what is the best way to stay in touch with me. Investors want to get notifications of articles as fast as they are posted.
Email Is Slow
Those investors who sign up for email should be aware that email is the slowest method for receiving notifications of the latest posts.
As well many mail servers slow my emails since I send so many out in a day. My email provider who specializes in sending large mail volumes advises me that services such as AT&T which includes a huge number of providers, as well as Comcast, Gmail, Outlook.com and many others, limit the amount of mail being allowed on their servers. For that reason many investors will get emails hours or even a day late. Many may not get emails at all unless they have marked my emails as NOT spam and added my email address to their whitelist or safe list. So, please, if you are getting emails from me, put my email address in your safe list. With more investors doing this, it advises companies like GMAIL and AT&T that my emails have been requested and are not spam.
At the same time, if you want to unsubscribe at any time, just use the link included in each email. Thanks.
Twitter
Twitter is definitely the way to go if you want immediate notifications of posts as soon as they go up. But I also want to mention that you can add my twitter account to your cell phones to get an instant text message. This is without doubt the fastest way to get notification when an article is posted, trade done, or even an article updated. Here is the link to my Twitter Feed.
Here is a quick outline of what you can do:
Add your phone number via Twitter for Text Messages:

On your profile, tap the gear icon and select Settings.
Tap Account.
Tap Phone Number. …
Enter your phone number in the empty field and tap Add phone.
Twitter will then send an SMS text message with a verification code to the phone number you added.
This article link explains further how to use text messaging to stay in touch. As well, remember, you can also text back to my twitter feed and ask questions or seek clarifications right from your cell phone.
Facebook
I will shortly be adding Facebook to my website which will also assist as you can also attach text messages from a Facebook account. I am sure those who are already using Facebook are more than aware of all the benefits of Facebook.
RSS Feed
Last is the RSS Feed which you will find here. You can sign up for the feed and get a summary of each article as it is posted, sent to you. While the technology is old, the feeds are still valuable and it works well.
Yahoo Forum
Last is the free Yahoo Forum. Don't forget that this contains more information than just my posts. Other investors, both members and non-members, post to the forum, ask questions, discuss trades and more. You can set up your account for individual posts which means each post will be emailed to you as soon as it is posted, but remember this is by email which is slower. You can also setup a weekly digest where articles are listed.
Summary – Consider Twitter and Text Messaging
I hope this helps all those who have emailed recently regarding this topic. I hope more investors will consider the Twitter feed and setting up Text Messaging. That is definitely a quick method for staying in touch and getting the most recent posts, trades and more.
---
Disclaimer: There are risks involved in all investment strategies and investors can and do lose capital. Trade at your own risk.
---
Internal Stock and Option Trades Links
Put Selling Strategies For Members
Covered Calls Strategies For Members
Profit And Income Strategies Index
Stock and Option Strategies For Members
Stock And Option Trades Explained For Members
Ask A Question About A Trade You Are In