Intel Stock continues to show strength as it holds the $21 support level. Intel Stock symbol is INTC and it trades on the NASDAQ. Over the past few days the number of puts bought and sold versus calls has been almost equal including each time Intel Stock has returned to the $21 price valuation but on Friday and Monday more puts contracts changed hands than call contracts which might indicate that investors are beginning to wonder if Intel Stock can hold this level. My personal outlook is that Intel Stock will hold the level and push higher. Intel Stock is undervalued here and I believe will recover going into April.
Intel Stock Outlook 3 Month Daily Chart
The 3 month daily chart below shows the key aspects I have followed since Intel Stock fell last year. The chart shows the number of retests of the $21 valuation level in Intel Stock. If you look at the volume indicator in the very last technical indicator you can see that volume has been steady.
Note how the last Bollinger Bands Squeeze Intel Stock fell back but failed to break $20. Now check volume and you can see there was no heavy selling for this break and on Feb 21 the day of the drop to a low of $20.12, selling was above the daily average but certainly no panic. I sold puts on that day and bought stock.
Now we are back entering a Bollinger Bands Squeeze which I have discussed several times including a couple of articles on the members website. With this squeeze the Lower Bollinger Band is rising to meet the stock which if often a sign of a break to the upside. There is never a guarantee with the Bollinger Bands Squeeze as slightly more than 50% of the time the squeeze ends with the stock falling.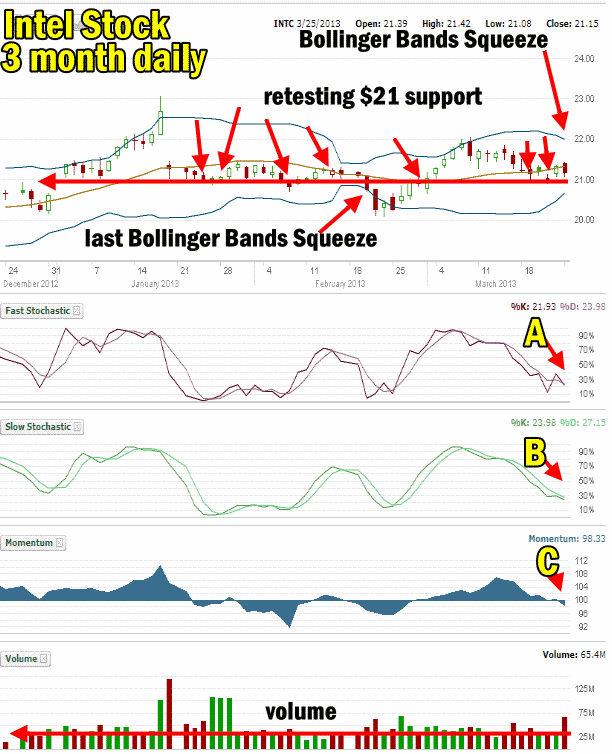 Meanwhile the Fast Stochastic is oversold which you can see in point A. Point B shows the slow stochastic is also oversold and unfortunately Point C shows the momentum is flat with a bias to declining.
The Fast stochastic though shows that the stock already tried to breakout to the upside just 2 days earlier. The breakout was negated by the selling in the overall market yesterday.
Intel Stock Today's Action
Today though Intel Stock has moved back to the upside and looks either like a temporary bounce back or it could be a push to try to retake the $22 valuation again. This is why today I sold puts on Intel Stock. Even if the stock should not be able to recapture the $22 level or even falls back to below $21, I believe it will be short-lived as Intel Stock is definitely undervalued at present levels.
Intel Stock Longer-Term Support
Long-term support is not at $21 so it is worth keeping that in mind. There is better support long-term at the $20 to $20.25 valuation than at $21 when looking at 3 year support in Intel Stock based on volume and price.
Put Selling Happiness Could End
You can readily see then why I have been so keen to keep Put Selling at these lower levels in Intel Stock with larger capital use than normal. It is so heavily undervalued that even if Intel Stock falls further, the $21 level is bound to be revisited often and with strong support at $20.00, this lends a lot of confidence to Put Selling while Intel Stock stays undervalued. I do not believe Intel Stock will stay undervalued much longer and today could be the beginning of a push to recapture the $22 level and then push back higher. I am still holding naked puts at higher level but I have been reluctant to roll many lower. Instead I have rolled out in time and reducing the number of put contracts on each roll out. I am then adding the freed up capital to my capital base which is being heavily used to sell puts on Intel Stock which is rapidly lowering all the cost basis for those naked puts that are still deep in the money.
You can understand now why I believe this easy Put Selling of Intel Stock is about to end which is why I called this article an End To Put Selling Happiness. This has been a long and easy Put Selling period for me in Intel Stock, but I do believe Intel Stock has been accumulated by larger institutions and could be on the verge of moving higher.
Internal Intel Stock Links
Members Only Articles On Intel Stock
Review 2012 Intel Stock Trades
Review 2011 Intel Stock Trades
Review 2010 Intel Stock Trades
All Intel Stock Posts With Excerpts
External Intel Stock Links