The news that China's economy is slowing down means that the second largest buyer of mineral assets will be buying less and that hit Cliffs Natural Resources Stock with a drop of 3.75% by the close on Monday March 10. But is this the start of even more declines for Cliffs Natural Resources Stock or an opportunity for those who like to do put credit spreads or sell naked puts. I know on my options forum there are a lot of investors trading within CLF Stock. I myself do not trade this stock. It is not the type of stock I like to be trading in, but it is interesting to look at this beaten up stock technically and see if there is profit potential for investors.
CLF Stock Technical Outlook
The daily chart below follows the stock since mid October to March 10. You can see that the stock is in a solid bear market. We can see the typical patterns of lower highs and lower lows that indicate a downtrend is well entrenched. If you go back three years you will see that CLF Stock was trading at $100 and has been in a steady decline. Now you know why I don't trade this type of stock.
Book value though is $32.51 so the stock is trading a lot lower than its book value. Earnings though is simply terrible at negative $9.60 a share and cash flow is negative $3.23 a share. This company is bleeding cash. It actually pays a dividend of 60 cents which is now 3.34% and it has revenue of 5.7 Billion.
You can see in the chart below a number of technical indicators.
First below the chart is money flow and you can see that it is negative and extremely oversold. This almost always is followed by a bounce back.
Next is accumulation – distribution which shows that the distribution of the stock is steady. Basically it is being unloaded every day by investors. This is basically a traders stock now.
Third is momentum which is dropping.
Fourth is the Ultimate Oscillator which is showing an oversold condition which matches the money flow oversold condition.
Last is the slow stochastic which is very oversold and on Monday it flashed a buy signal on the stock.
Put Premiums Are High
The attraction for investors is the low price of the stock and the large put premiums. With the stock this low how much further could it fall? While no one knows for sure, the stock certainly does appear ready for a quick bounce back. CLF Stock trades weekly options and with the high volatility in the stock put premiums are excellent. The chart below is as of the close of March 10. You can see that premiums are terrific and putting together a naked put trade at $16 does have a lot of merit. For two weeks risk the return is .0875% and while $16 could be visited by the stock, at present it looks set to jump so this could mean a quick trade and then buy back the puts for mere pennies in a couple of days.
Meanwhile put credit spreads are easy to put together as you can see from the chart. It comes down to your risk tolerance. Selling the $17 put strike for .30 cents and then buying the $16 for .14 cents is a return of 16 cents or just shy of 1%. For two weeks of risk this is probably not a bad trade but the stock could reach as low as $17 within the next couple of weeks.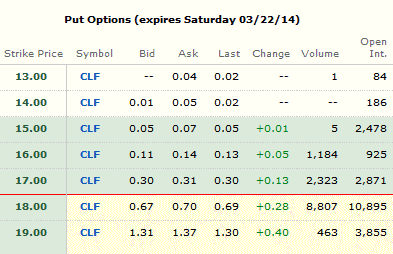 CLF Stock Summary
When it comes to a stock like CLF stock, many investors are drawn to the large put premiums and the fact the stock has fallen so low. The downside might be limited from here and indeed the technical indicators certainly appear to be pointing to a bounce back. But from my perspective my capital preservation is important and there are a lot of trades available. I would classify this trade as highly speculative which means it falls into the same category as Facebook Stock, Twitter Stock and hundreds of other stocks and ETFs including AGQ which is an Ultra Silver trade and itself trading at extremely low and oversold levels. Option premiums are excellent in AGQ as well.
I only do one speculative trade at a time and at present I am in Facebook Stock. If I had the choice at present between Facebook Stock and Cliffs Natural Resources Stock, even at present levels in CLF Stock I would take Facebook Stock.
Facebook Stock is on the rise, which make Put Selling easy and I can sell the put options in Facebook Stock further out of the money than I can in CLF Stock. Still though there is a lot to like about CLF Stock and I understand the attraction for a lot of investors.
At this level if you look at the 5 year chart of CLF Stock you are probably tempted to wonder if being assigned shares at this level would really matter? The stock at some point has to recover doesn't it? If so then trading at these levels seems to make some sense. Certainly looking at the weekly volume of options that trade, there are a lot of investors who must believe this to be true.
With the stock plummeting this low a lot of investors have to ask just how much lower can CLF Stock fall. If an investor believes the answer is "not much lower", then trading in CLF Stock is probably worth considering. Personally I think there are a lot better stocks to be considering and I see no compelling reason at present to be trading CLF Stock and placing my capital at risk..
Internal Stock and Option Trades Links
Put Selling Strategies For Members
Covered Calls Strategies For Members
Profit And Income Strategies Index
Stock and Option Strategies For Members
Stock And Option Trades Explained For Members
Ask A Question About A Trade You Are In