This is a FullyInformed Members strategy article delving into a rescue strategy for a trade where the investors got caught in a downturn and is holding deep in the money puts. Once in a while a stock falls so quickly that investors who have sold naked puts don't have the chance to buy them back and roll down. Other times they do buy them back and roll down but the collapse of the stock is so swift that they cannot roll down quick enough or there may not be enough put premiums to save them from taking a loss on the roll down of their puts so they end up holding deep in the money puts with steep losses to buy to close.
There are many reasons why investors get caught with naked puts deep in the money. Everything from speculative stocks to highly volatility product lines such as Cliffs Natural Resources Stock mines. Cliffs Natural Resources Stock trades on New York under the symbol CLF.
Deep In The Money Naked Puts
When puts are sold, every investor hopes they do not end up caught, holding deep in the money puts. I recently received an email from an investor who has been selling naked puts against CLF Stock for a long time but got caught in the recent downturn of the stock. The chart for Cliffs Natural Resources Stock is one of a severe bear market in the stock. The stock has lost 70% of its value in less than a year. Looking at the CLF chart when a stock like this begins a drop you have no choice but to step to the sidelines or consider selling naked calls rather than naked puts.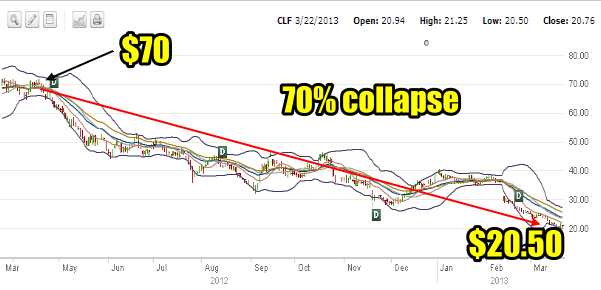 CLF Stock is now trading back at levels seen in the bear market collapse in 2008-2009. You can see in the chart below just how volatile this stock can be and that is the attraction for those investors interested in options, either buying or selling. A stock like this is better traded through iron condors, or credit/debit spreads. This is because the trading range of the stock is so varied that even when you think you have figured out the trading range, it will change without notice leaving your naked positions with losses.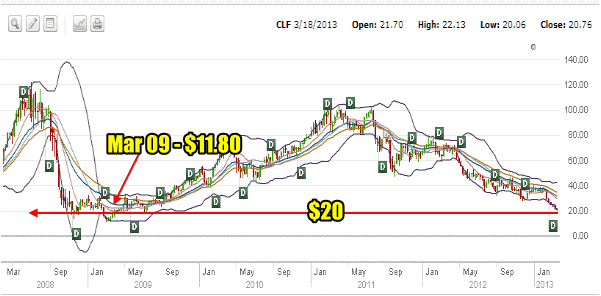 The Value Of Iron Condors, Spreads, Butterflies Rather
Commodity related stocks are difficult to trade against. For example Cliffs Natural Resources Inc. is an international mining and natural resources company that is an iron ore producer and metallurgical coal producer………….
FullyInformed Members can can login directly through this link to read the rest of this in the money puts rescue strategy article or Members can sign in to the full members site here. Non-members can join here. This resciue strategy article on in the money naked puts is 8 pages in length with 3100 words.
Internal Stock and Option Trades Links
Put Selling Strategies For Members
Covered Calls Strategies For Members
Profit And Income Strategies Index
Stock and Option Strategies For Members
Stock And Option Trades Explained For Members
Ask A Question About A Trade You Are In