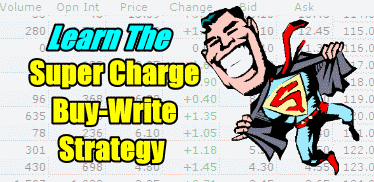 While the stock market rally on Friday (May 8 2015) was great to see, it does not change the sideways pattern investors have been facing all year. While many investors find trading a sideways market difficult, it can actually be highly rewarding.
Fear Of The Unknown
Part of the problem a sideways market creates for investors is fear of the unknown. Most investors live in fear that another stock market collapse is just around the corner. Many also worry that such a collapse in valuation will be quick and intense.
Choose Strategies That Focus On Protecting Capital
One way to build confidence in a sideways market is to choose strategies that focus on protecting capital that is being used. Selling out of the money put options can protect capital since I am almost always selling at a put option that is below where the stock is trading. This gives the stock room to fall with the hope that the put strike I have sold will not be reached.
Not everyone enjoys or can sell put options all the time. As well many investors are more use to traditional investing where shares are bought and then sold for a profit. Unfortunately that does not always work. Instead I prefer strategies that stacks the odds of success in my favor. Those strategies need to include limited exposure to risk for my capital but still a decent return. To do this I developed a strategy years ago built around the buy-write method of selling covered calls. I have used this strategy for decades. I call it the Super Charge Buy-Write Strategy.
There are many different types of trades for investors to use that focus on protecting capital from losses, especially in sideways markets. I am a big fan of the Super Charge Buy-Write Strategy since it keeps my capital exposed to harm only for short periods. It also allows me to spend time outside the market hours such as in the evenings to search and set up the next Super Charge Buy-Write Strategy trade.
The Super Charge Buy-Write Strategy has continued to serve me well in 2015 and has not lost any capital this year. Done repeatedly, I find it easy to earn 10% or better annually while keeping trades shorter with a decent level of protection against declines. This trade strategy does not require a large amount of trading time. I find it takes just minutes to search for the next trade, select an appropriate ……………. The rest of this strategy article is for USA Members. This article is 2700 words in duration and will require 6 pages if printed.
Learn The Super Charge Buy-Write Strategy
 The rest of this trade alert and ideas article is for FullyInformed Members.
Learn The Super Charge Buy-Write Strategy
---
Disclaimer: There are risks involved in all investment strategies and investors can and do lose capital. Trade at your own risk. Stocks, options and investing are risky and can result in considerable losses. None of the strategies, stocks or information discussed and presented are financial or trading advice or recommendations. Everything presented and discussed are the author's own trade ideas and opinions which the author may or may not enter into. The author assumes no liability for topics, ideas, errors, omissions, content and external links and trades done or not done. The author may or may not enter the trades mentioned. Some positions in mentioned stocks may already be held or are being adjusted.
Internal Stock and Option Trades Links
Put Selling Strategies For Members
Covered Calls Strategies For Members
Profit And Income Strategies Index
Stock and Option Strategies For Members
Stock And Option Trades Explained For Members
Ask A Question About A Trade You Are In