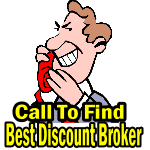 Every once in a while on my yahoo forum (shameless plug for the forum) there are questions posed about where an investor can get great charting tools and decent commission rates for trading. Every day I get an email asking "who is the best discount broker".
Today there are a lot of discount brokers, especially in the United States and often it is not hard to find the best discount broker. (I am so jealous). In Canada it's a very different story where the big banks have monopolized the discount brokerage industry and honestly they do not provide "discount" prices. In Canada finding the "best discount broker", is next to impossible.
Every day I get emails from around the world asking if I know who is the best discount broker for charting and who is the best discount broker for deep discounted commissions. A Google search would help a lot of investors in doing some comparison shopping to find the best discount broker.
I get investors writing me from all over the world such as China or Russia. I cannot help find the best discount broker outside of North America because I only know North American discount brokerages.
But often your own discount broker ends up being the best discount broker because they want you as a client. They want your money.
Buying Charting Software? Why?
Among the questions about the best discount broker is always the question about charting software. I am surprised at how many investors buy charting software or pay for stock charting sites without first exhausting their own discount brokers. Often they are the best discount broker for your charting software needs and you are already paying their commissions, so why not make them work for your money
Best Discount Broker For Charting Software Might Be Your Own
The majority of discount brokers have excellent charting software as a lot of them are actually drawing from the same architecture and platforms. They just make a few changes here and there to make it look unique. Honestly this is why the best discount broker often ends up being your own.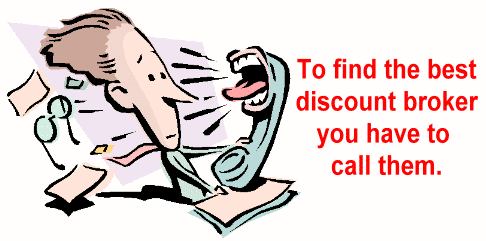 Instead of paying for charting services or charting websites, consider phoning your discount broker and telling them the technical indicators you want. Many discount brokers have a variety of platforms available. You are paying commissions. You deserve better. You deserve appropriate charting tools. After all, your discount broker will make even more money in commissions when they provide better charting software or the charting tools you need to be able to trade. If you are trading properly, then you are going to be doing more trades. More trades means more commissions for the discount brokerage. Suddenly the best discount broker was your own!
Be Specific With Your Discount Broker
Be specific when talking with your discount broker. Tell them what you do for investing. For example – "I sell options. Where is the Ultimate Oscillator? My good friend Teddi says I need the Ultimate Oscillator so where in the world is it? I am on this website Fullyinformed.com every day (you should be) and he uses all these technical tools. He told me the best discount broker is probably my own. So help me out!"  Okay, okay, you can leave out the part about Teddi but mentioning my site is always appreciated.
You will be surprised at how your discount broker wants to help you. It's in their best interest. They are not doing you a special favor. They are supplying you a service which you are paying for anyway, so get real value out of your discount broker.
If the first person you speak with cannot answer your questions ask for a supervisor. If they don't know then ask for "tech support". Keep at it because you need to know. For one thing if they are not the best discount broker, then you want to find who is right away.
Problem With Non Discount Broker Charting Software
The problem with using charting software from an outside company or website where you do NOT do your trading is having to flip back and forth when doing a trade. Many times when I buy and sell puts in the same day I use my technical tools to trade in and out at specific points intraday. Because my software is from my discount broker I can accomplish the trade in one step. It is pretty well instant.
When I used to use charting software from outside my discount broker, I often found that the trade had changed by the time I put in my order to buy and sell. It might have changed by just 10 or 20 cents, but lose 20 cents on a lot of trades and it soon adds up to a few hundred dollars each month. Now try that during a market panic.Now you know why your need the best discount broker. A market panic can make you a lot of money. Even if you do not trade in Ultra Bear ETFs or buy and sell puts. What about selling covered calls in a market panic AND buying them back the same day for 3 and 4 percent gains? It happens in a market panic and if you are not with the best discount broker or are using third party charting software or website, you are not going to get the best commissions and possibly the best trade speeds.
Being able to use the same charting software that my discount broker provides, which is directly attached to my accounts, is fast and simple. So again, call your discount broker and get them to explain all the ins and outs of the various charting software packages they have available.
Some discount brokers charge extra for their charting software. In Canada where the word competition seems to be a bad word to our big banks, they love to nickel and dime investors on everything. "Oh, you need a print out of that? That will be $2.00." or how about "Oh, sure you can do that from your smartphone but alerts are 5 cents each." or how about "Oh, sure you can deregister from your retirement account for $25.00 per transaction plus all the taxes".
In Canada the banks have all the discount trade sewn up. I don't believe in Canada there is such a think as BEST DISCOUNT BROKER. Instead it's more a matter of who is not the worst. So sometimes you end up having to pay for their best charting packages. If you do a lot of trades, perhaps as many as 30 or 40 in a month, tell them it's either "free" or I'm gone. That has always worked for me.
Getting Deep Discount Commissions From The Best Discount Broker
You have to be ready to move your account and be serious about it to find the best discount broker who offers the best rates and service. Starting by finding out what other discount brokers are offering for discounted commissions.
Best Discount Broker in Canada
For example in Canada, Questrade Canada has decent commissions. They are not fantastic, but they are cheaper than most of the big banks. Get their latest rates and then call your discount broker. Ask for a supervisor and explain the rates available from other companies. Tell them you are looking for the best discount broker both in pricing and service.
If you are not doing a lot of trades then they will not reduce their fees. If you are doing a lot of trading though (25 trades in a month is enough), they will most likely act.
Be prepared though to transfer your account out in the event they will not act.
The other discounter that has excellent commissions is Interactive Brokers. No one can touch their commissions. I love their platform which is a downloaded app and not running within a web browser. This keeps it free of java errors and I have never been down once in about 8 years. The platform though could be more user friendly and a lot of investors find it takes time to learn how to use it. Trade executions are faster with them than anywhere else in my opinion.
Best Discount Broker in United States
In the United States you have it "made in the shade" as they say. There are dozens of independent companies and find the best discount broker is a lot easier. It is amazing the variety of charting platforms and discount commission structures available. I am so envious!
The best approach for investors to take is to call and pressure your existing discount broker to lower their rates. Tell them flat-out, you are looking for the best discount broker to handle your accounts. No need to be nasty or rude. Be friendly and persuasive. The longer you have been with them the more they will want to try to be your best discount broker.
If you are doing enough trades, about 20 a month or 240 a year, they will try hard to get a better commission structure. If on the other hand you are doing more than 500 a year, push them for still deeper discounts.
In the US you should not be paying for charting software from your discount broker. If you are and you are doing more than 100 trades a year, then it's time to search for another discount broker unless your existing discount broker is willing to stop charging you for their charting software.
The phone is your best weapon in the hunt for the best discount broker and fight for deep discount commissions. Your persistence in the tool of choice. Keep pressuring them. If you see a better price somewhere else, don't sit idle, call them up. Even $1.00 a trade makes a huge impact over time. Your broker hears all the time that people want the best discount broker. Ask them directly if they want to be YOUR best discount broker.
Use The Phone To Find The Best Discount Broker – Call Today
So take time out and call your discount broker. In Canada you will have less luck than our American friends and it will be a lot harder as I don't believe there is a best discount broker to be found. In both countries if more investors called and complained about the charting tools and the commission structures, the discount brokers would have no choice but to act.
Remember if the question is, "Who is the best discount broker? Often the answer turns out to be "your own". But you have to call them to get their best rates and service.