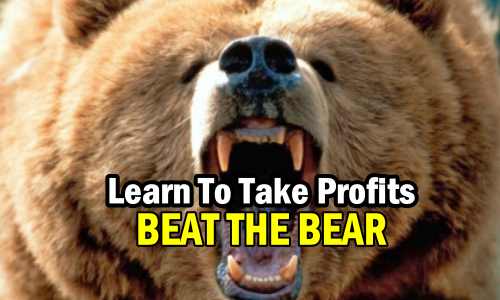 There are days when the market seems like all it wants is to take your money. In fact, that is what a lot of investors think much of the time. Today is another such day and in fact October looks to be another month where many investors could face losses. To calm nerves and keep investors focused on the larger picture, consider learning how to take profits as it is key to successful investing. If the market wants nothing more than to take your cash, then why let it. Learn how to beat the market at its own game. Learn to take your profits.
Don't Forget About Your Positions
I am always surprised at how many investors set up trades and then forget about them, waiting for them to expire. Instead keep watch through a spreadsheet tied to Yahoo finance, or a manual spreadsheet or a spreadsheet within your own brokerage account that you monitor daily to see how the options you have sold are trading.
Déjà vu
The spread sheet was first posted for members in Feb 2016 when the market was trying to break below 2000. Many investors saw the Jan – Feb correction as the start of a new bear market. Economic news was dire out of China, the Middle East was exploding, it was the start of a Presidential year and uncertainty over the candidates had investors and the average citizen worried. The US dollar was skyrocketing as the Fed had raised interest rates in December 2015 and had laid out a plan for "four more" interest rate hikes in 2016. Yes it seemed a new bear market was upon investors.  Sound familiar?
What Recession?
The biggest problem to that scenario was that there were no consistent signals of a looming recession. Instead unemployment was still dropping at record levels, interest rates were still just a quarter of a percent and there were more statistics that seem to support the outlook that the economy would just lumber along with very small growth potential but no real signs of recession.
So how can an investor, small or large, stay profitable in such markets? Learning how to close trades and lock in profits is essential to growing a portfolio in any market condition.
Teddi's Closing Early Spreadsheet
This strategy article for members, gives a download link and full instructions on how to use the spreadsheet I developed in 1985 when Excel was first introduced. Since 1985 I have modified it many times including during the crash of 1987 and throughout the 1990's and into the bear markets of 2001 to 2003 and 2008 to 2009.
This strategy discussion article is 4000 words in length and 12 pages will be needed if printed. This strategy article explains how I use this spreadsheet to pinpoint when to close trades to lock in profits or escape from large losses.
Learning To Take Profits Is Key To Successful Investing
FullyInformed members can directly access this investing tool designed for periods of high volatility through this link.
Non-members can join FullyInformed to gain access to this tool through this link or to read about the benefits of a membership.
---
Disclaimer: There are risks involved in all investment strategies and investors can and do lose capital. Trade at your own risk. Stocks, options and investing are risky and can result in considerable losses. None of the strategies, stocks or information discussed and presented are financial or trading advice or recommendations. Everything presented and discussed are the author's own trade ideas and opinions which the author may or may not enter into. The author assumes no liability for topics, ideas, errors, omissions, content and external links and trades done or not done. The author may or may not enter the trades mentioned. Some positions in mentioned stocks may already be held or are being adjusted.
Internal Stock and Option Trades Links
Put Selling Strategies For Members
Covered Calls Strategies For Members
Profit And Income Strategies Index
Stock and Option Strategies For Members
Stock And Option Trades Explained For Members
Ask A Question About A Trade You Are In