It was just back on Oct 27 that I was receiving emails from investors worried they would lose their shares through covered calls they had sold on Barrick Gold Stock, as gold looked like it was about to rise. Investors wrote worried that covered calls they had sold would end up in the money and they would lose their shares, many of which sold the covered calls below their stock cost basis.
With the renewed decline in gold and subsequently Barrick Gold Stock that fear has dissipated and many are beginning to worry again that gold has further to fall as do gold stocks.
Barrick Gold Stock Declines Further
Recently Barrick Gold management decided to issue an unprecedented three billion dollar's worth of new shares. I wrote at the time that this was obviously because they saw the recent rise in gold prices as being unsustainable and decided to issue shares while they felt it advantageous. They issued the shares for $18.35 and as of Nov 14, 25% of the 163.5 million new shares are said to have been unsold.  On Friday Barrick Gold Stock closed at 16.38 down 10.7% from the offering at $18.35.
Short Interest
Short interest in Barrick Gold stock is down from its highs of last June and July but still at 11.4 million shares shorted by Oct 31, a lot of investors bet that Barrick Gold Stock would continue moving lower.
Barrick Gold Stock Technical Indicators
To understand the next move in Barrick Gold Stock we should look at the past 3 months. In the chart below we can see that the stock since issuing new shares has fallen lower with the renewed decline in the price of gold. On Thursday Barrick Gold stock reached the Lower Bollinger Band and on Friday is was clinging to the Lower Bollinger Band. We can see that selling volume is rising as more investors give up on Barrick Gold Stock once again. It is also heading into lows not seen since July when by July 5 the stock stopped falling at $13.43.
Momentum remains negative and the Slow Stochastic shows that Barrick Gold Stock is very oversold.
There have been two sell signals recently from the Slow Stochastic that are worth noting. The first was Nov 8. Then on Thursday Nov 21 the Slow Stochastic almost made an up signal but failed. The sell signal remained in force and was confirmed again on Friday with a lower signal from the Slow Stochastic technical indicator.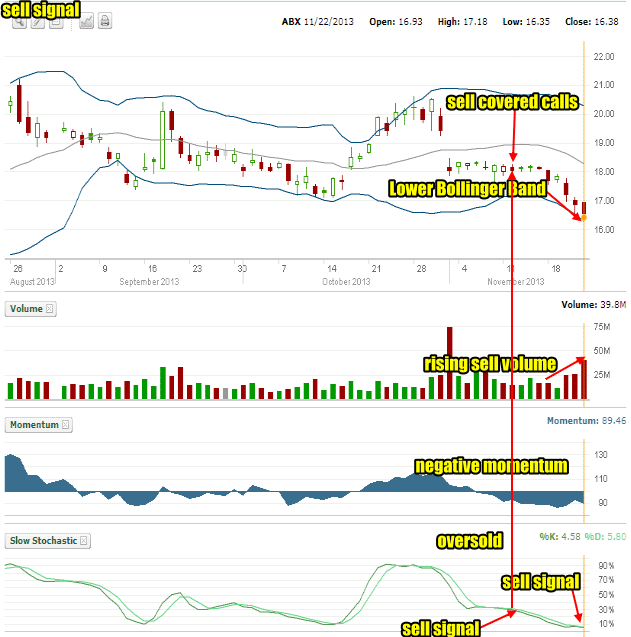 Call Options
The first signal on Nov  8 would have allowed investors to sell covered calls for those holding stock and naked calls or call credit spreads for those not holding stock but trading within Barrick Gold Stock. At present there are no up signals so continuing to hold covered calls or naked calls is certainly practical. Meanwhile the stock is very oversold and there could be a short bounce but at present I see no signals to indicate buying calls is of value.
Put Selling Barrick Gold Stock
Instead I still think the selling put strikes are the better idea. There could be a decent put credit spread set up for Dec 21 expiry through selling the $15 put strike for .19 cents and buying some protection at the $13 strike for 3 cents or $14 for 7 cents although I prefer the $13 due to the cost.  Aside from this past July, Barrick Gold Stock has not been down to $15 in over 10 years. Even in the bear market of 08-09, the stock did not go that low.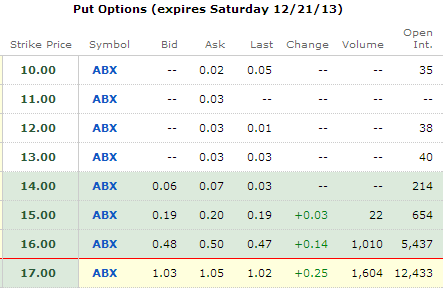 Barrick Gold Stock Trade Summary
With Barrick Gold stock continuing to decline, it is setting up some exceptional trades for those of us who like to sell puts. I will be watching Barrick Gold stock this week to see if the trend down stalls or whether the stock moves lower. Overall I like Put Selling back at these low levels. With a lot of investors sitting with newly issued shares at $18.35 they must be disappointed with the stock already down over 10%.
I will post any trades this week in Barrick Gold Stock as they happen to my twitter account first and then my website.
Barrick Gold Stock (ABX) Internal Links
Review Barrick Gold Stock Trades For 2013
Review all Members articles on Barrick Gold Stock
Review all articles on Barrick Gold Stock
Barrick Gold Stock (ABX) External Links
Review Investor Relations for Barrick Stock