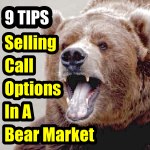 Since January 2015 I think every investor knows that something has changed with the markets. For the first time since this rally started in March 2009, the market has been trended sideways since the fall of 2014. With the end of March we are now 5 months into a market that has gone nowhere. The 3 year S&P chart below shows the daily movement of the S&P index and you can see the steady climb in the index up until after the pullback in October. Since that pullback the market has primarily moved sideways.
Who knows, perhaps in the future investors may look back on this chart and realize that the bull market ended in late 2014 and not even in 2015. We won't know until the future but perhaps now would be a good time to start considering how to profit from a change in trend. Over the past several months I have received quite a few emails wondering about strategies for the next bear market. Let's review a typical question on the use of Naked Calls or Selling Call Options in a bear market.
Selling Call Options In Bear Markets
Selling call options in bear markets can be highly profitable, but in a bear market they are not as profitable as holding put options can be. That though is pretty obvious. Nonetheless, selling call options can provide excellent returns in bear markets, but like all strategies, they can also end with losses, especially when a stock moves back higher. In bear markets, volatility is higher and stocks can gyrate quickly and unevenly.
The rest of this strategy article on selling naked calls in a bear market is for FullyInformed Members.  The article is approximately 2000 words and will require 5 pages if printed.
9 Tips For Selling Call Options In A Bear Market
FullyInformed Members can login directly through this link to read 9 Tips For Selling Call Options In A Bear Market.
Non-members can  join FullyInformed here or read about the benefits of being a member.
---
Disclaimer: There are risks involved in all investment strategies and investors can and do lose capital. Trade at your own risk. Stocks, options and investing are risky and can result in considerable losses. None of the strategies, stocks or information discussed and presented are financial or trading advice or recommendations. Everything presented and discussed are the author's own trade ideas and opinions which the author may or may not enter into. The author assumes no liability for topics, ideas, errors, omissions, content and external links and trades done or not done. The author may or may not enter the trades mentioned. Some positions in mentioned stocks may already be held or are being adjusted.
Internal Stock and Option Trades Links
Put Selling Strategies For Members
Covered Calls Strategies For Members
Profit And Income Strategies Index
Stock and Option Strategies For Members
Stock And Option Trades Explained For Members
Ask A Question About A Trade You Are In