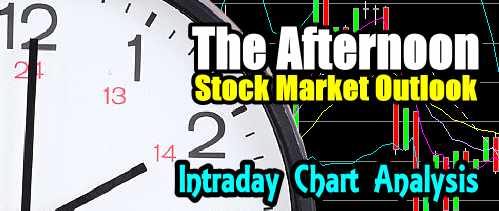 The plunge this morning was not unexpected following yesterday's relief bounce, but what was interesting was the number of stocks that did not fall to their recent lows or even come close. Here's a good example in Microsoft Stock.
Microsoft Stock (MSFT) Example
Note the low on September 30 but each subsequent drop in the stock has seen a higher close.  Note as well that the drops are finding buyers who are picking through the stock lows.
Sep 30 close was $281.92
Oct 1 close was $289.10
Oct 4 close was $283.11
Oct 5 close was $288.76
Oct 6 – Intraday low was $285.51 and the stock bounced back above $290
This is just one example of literally hundreds of stocks but they are pointing to a probability that the sell-off is working on a bottom.
The individual stats on the markets though don't look as promising. Volume today is better than average.
Afternoon Stats And Outlook
All indexes are climbing this afternoon.
New York / S&P
New lows are at 132 which is higher than the last few days. New highs are just 41, the worst showing for an afternoon in the past several days.
Up volume is 32% of all trades, better than the last two big down days.  34% of all stocks are climbing which is also better than the last two big down days.
NASDAQ 
The NASDAQ is doing far better despite the growing number of new lows.
59% of all volume is being traded higher and 35% of all stocks are climbing.
New lows are now 268 which is among the worst showings in the sell-off but also indicative of the market trying to find a bottom. New highs are 45. That's poor but 45 new highs shows there are still stocks climbing.
Both New York and the NASDAQ are indicating that investors are buying selectively. We could see a bottom over the next several days.
TSX Composite Index – Canadian Stock Market Outlook
For investors who follow the Canadian stock market, volume is better today at 278 million shares traded but still below average. 64% of all volume is being traded to the downside but 30% of all stocks are still rising despite the bulk of the market falling lower.
New highs and new lows are almost unchanged from the last several days with 24 new highs and 27 new lows.
The close could easily turn positive as the losses on the index amount to just 14 points as the afternoon progresses.
Overall the index does not look in very bad shape despite the weakness and selling. Buyers are waiting in the wings and hoping for stocks to move lower. They may not drop much lower than where they are trading.
I am still selling put options in the Canadian Banks and I also sold puts in Canadian National Railway Stock (CNR) today. I will post trades tonight.
---
List all intraday chart articles from most recent to oldest
---

Disclaimer: There are risks involved in all investment strategies and investors can and do lose capital. Trade at your own risk. Stocks, options and investing are risky and can result in considerable losses. None of the strategies, stocks or information discussed and presented are financial or trading advice or recommendations. Everything presented and discussed are the author's own trade ideas and opinions which the author may or may not enter into. The author assumes no liability for topics, ideas, errors, omissions, content and external links and trades done or not done. The author may or may not enter the trades mentioned. Some positions in mentioned stocks may already be held or are being adjusted.
Stay FullyInformed With Email Updates
Market Direction Internal Links
Profiting From Understanding Market Direction (Articles Index)
Understanding Short-Term Signals
Market Direction Portfolio Trades (Members)
Market Direction External Links
IWM ETF Russell 2000 Fund Info