I have been trading Clorox Stock since the bear market ended in early 2009. Clorox Stock is among the top 10 most shorted stocks trading on New York at present. This is less than ideal but part of the reason for the large short holding is the recent rumors that the company was a takeover target.
Many investors doubted the rumors were true and shorted the stock. They had expected that the stock would plunge when it become apparent no suitor was waiting in the wings for Clorox Stock. While the stock has fallen from just above $93 to around $86.03 for a drop of around 7%, rarely do short-sellers hold for this small a gain. They are obviously expecting a lot more downside.
I am not convinced yet that the stock has a lot more room to fall and I entered into another trade today on Clorox Stock.
Clorox Stock – Sell The Rumors
The mantra seems to be "sell the rumors" as there has been two rumors and both times the stock rallied hard and then pulled back.
Both times the amount of stock bought for shorting has been high. The latest rumor pushed Clorox Stock to over $93.00 but since then no heir apparent has emerged and the selling has remained steady, every day. The stock is now trading at levels not seen since February.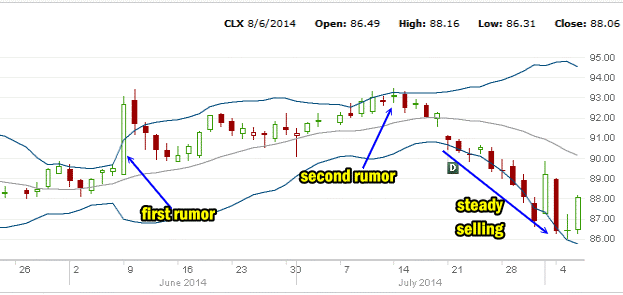 This recent selling has provided substantial returns for some of my trades. Today I have taken advantage of further selling pressure to open up a new position in Clorox Stock.
Trade Alert and Analysis for Clorox Stock
To read the Clorox Stock trade alert and analysis FullyInformed USA Members can can login directly through this link or Members can sign in to the full USA members site here. Non-members can join here.

---
Disclaimer: There are risks involved in all investment strategies and investors can and do lose capital. Trade at your own risk. Stocks, options and investing are risky and can result in considerable losses. None of the strategies, stocks or information discussed and presented are financial or trading advice or recommendations. Everything presented and discussed are the author's own trade ideas and opinions which the author may or may not enter into. The author assumes no liability for topics, ideas, errors, omissions, content and external links and trades done or not done. The author may or may not enter the trades mentioned. Some positions in mentioned stocks may already be held or are being adjusted.
Clorox Stock Internal Links
Review Clorox Stock Trades For 2013
Review Clorox Stock Trades For 2012
Review Clorox Stock Trades For 2011
Review Clorox Stock Trades For 2010
Review Clorox Stock Trades for 2009
Review Clorox Stock Articles Index
Review All Clorox Stock Strategy Articles
Review All Clorox Stock In-depth Strategies (Members Only)
Clorox Stock External Links
Clorox Stock Investor Relations
Clorox Stock Splits & Dividend Info
Clorox Stock Financial Reports