One of my favorite stocks since 2007 has been Visa Stock. I waited a long time for Visa Stock to come to the market place with its IPO. I had held MasterCard Stock (MA) shares for years but I could never figure out what Visa didn't bring a share offering. When they did I bought my full allotment across 3 accounts. Basically I was given 100 shares in each account. That was pretty tough to trade. In the credit crisis though I loaded up and I have sold covered calls using the Hide and Seek Covered Calls Strategy since 2008. I plan to unload my shares at $300 which I thought would take many years but now I may see it in just the next couple of years.
Court Ruling Bounces Visa Stock
A Federal appeals court ruled that the Federal Reserve was authorized to cap debit card swipe fees at 21 cents. This ruling supports the credit card companies like Visa and MasterCard who have been fighting retailers over what retailers feel are high debit transaction fees. The ruling means Visa and MasterCard may continue to charge their fees but at the same time should end further court action by retailers saving credit card companies thousands and possibly a few million in court and legal fees. Both Visa and MasterCard are up on the news.
Put Selling Strikes In Review
I have sold puts against Visa stock also since 2008 selecting the closest support level as the stock has climbed. The 3 month chart below shows that at present $215 is the nearest support level and I am at present holding a large put credit spread at that strike. Meanwhile the Bollinger Bands continue to point to a possible squeeze which I had mentioned to FullyInformed Members in an article earlier last week as a point for selling puts as I felt that the stock would possibly move lower. Today's bounce up may push the squeeze back and allow the stock to climb further.
Volume has spiked as buyers are stepping back into Visa Stock. Meanwhile intraday MACD which had been negative after issuing a sell signal on March 3 is starting to climb back and could be nearing a buy signal again. If that happens I will be moving my put credit spread higher.
Intraday momentum is higher as well. It has been negative since March 13.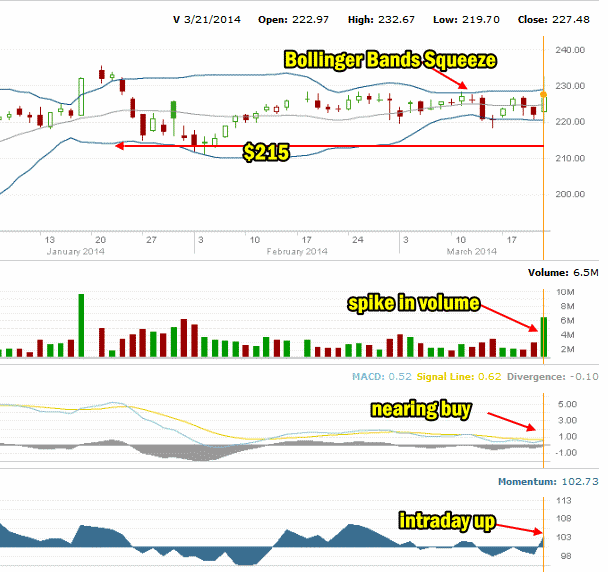 Visa Stock (V) Trade Outlook Summary
The best thing about selling puts either naked or through a put credit spread on Visa Stock is the confidence I have that the stock is in a long-term uptrend. As long as that uptrend stays in place, I will be continuing to sell puts and should something happen that ends with my being assigned stock, I would have no concern about holding the stock and selling covered calls until exercised back out.
Today's court ruling opens the way for more profits for Visa Stock which means more strength to the upside momentum in the stock and more profits in my Put Selling and stock trades.
Visa Stock remains a stellar performer in my Put Selling portfolio and 2014 marks the 6th year of double-digit profits through trading against the stock. You can review all the years below. I have not got the 2014 trade table up yet but will shortly.
VISA Stock (V) Internal Links
Review VISA Stock Trades for 2013
Review VISA Stock Trades for 2012
Review VISA Stock Trades For 2011
Review VISA Stock Trades For 2010
Review VISA Stock Trades For 2009
Visa Stock Full Index Of Articles
Review VISA Stock Strategy Articles
Review Visa Stock Members Strategy Articles
VISA Stock (V) External Links