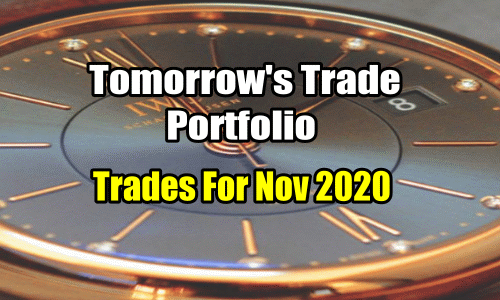 I had not planned on a trade in the Tomorrow's Trade Portfolio until after Election Day, however I like the outlook for this stock for the portfolio. Make sure to read the entire article and stay in your comfort zone.
The Tomorrow's Trade Portfolio choice for Tue Nov 3 2020 contains 8 trade ideas. I am planning on entering up to 4 of the trades outlined.
I also updated the last trades done in the portfolio.
Make sure to read the introductory comments and the trade outline comments for the Tomorrow's Trade to determine suitability. Remember you always trade at your own risk so do your homework before risking capital. Remember that what you read are my ideas only. I am not a financial planner or advisor.
Tomorrow's Trade Portfolio Ideas are for FullyInformed Members.





---
Market Direction Internal Links
Profiting From Understanding Market Direction (Articles Index)
Understanding Short-Term Signals
Market Direction Portfolio Trades (Members)
Market Direction External Links
Market Direction IWM ETF Russell 2000 Fund Info