Put Selling against VISA Stock has been a terrific trade since the collapse of the markets back in March 2009. Visa Stock symbol is V Stock and it trades on New York.
My most recent article looking at Put Selling Visa Stock included a lot of information on the value of Put Selling VISA Stock and the strategies used. It has been a Put Selling income generator for 4 years and 2013 looks like it will repeat that performance!
Meanwhile today MasterCard announced plans to follow Visa's lead and increase transaction fees for small merchants this summer. MasterCard plans to increase assessment fees by 20 percent on small to medium-size businesses.
While this is disappointing to many businesses that feel Visa and MasterCard are already charging high fees there is really very little recourse for businesses as MasterCard and VISA pretty well monopolize the entire credit card market. Visa on the other hand is raising their fees higher than MasterCard.
Visa Stock and Fees
This increase in fees I believe will continue to push VISA Stock higher and can only add to my Put Selling profits. As readers might recall, with my original investment in Visa Stock I am continuing to sell Covered Calls for excellent option premiums, but in 2012 Visa Stock put premiums also earned excellent returns as the stock continued to climb.
Visa Stock Breakout
Visa Stock has broken out of the latest run-up and smashed through the Upper Bollinger Band jumping to new all time highs again. The buying within Visa stock is strong.
The Visa Stock chart below shows the past 3 trading sessions. For Put Selling, investors should wait for a pullback before commencing Put Selling. The dips within Visa stock are common place enough to make Put Selling highly profitable. I do my Put Selling out of the money far enough so as not to be assigned and wait for the dip to show signs of weakness.
Watch Visa Stock Volume When Put Selling
Keep an eye on the daily volume for VISA Stock to advise when the stock will pull back. That is when I look to Put Selling to add more profits. The recent breakout above the Upper Bollinger Band was strong and on very good volume. There is still more upside left in Visa Stock and in conjunction more Put Selling opportunities. Watch for volume in Visa Stock to fall back below the average (red long arrow) and then look for the dips in Visa Stock to be Put Selling for superior premiums.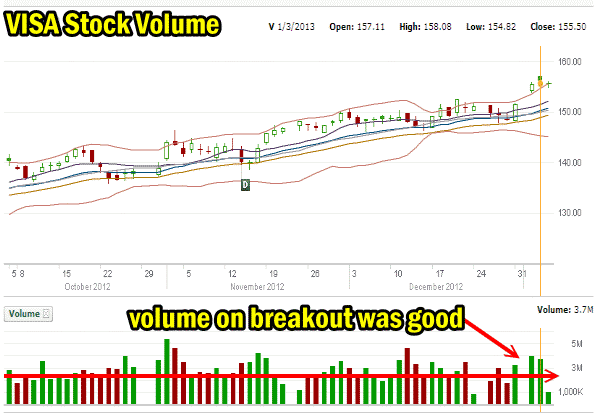 Put Selling Visa Stock Summary
The long-term uptrend remains intact on Visa Stock making it an ideal Put Selling candidate. Should I ever get assigned shares due to Put Selling I will be happy to sell covered calls to be exercised out. In the interim, if I ever was assigned shares, I would continue with Put Selling even while holding shares and waiting to be exercised out. Visa Stock remains a winner for Put Selling and the profits from the past few years show a stellar return. The key for me has been watching for the dips in Visa Stock before Put Selling and staying out of the money to avoid assignment.
Visa Stock Internal Links
Review VISA Stock Trades For 2012
Review VISA Stock Trades For 2011
Review VISA Stock Trades For 2010
Review VISA Stock Trades For 2009
Visa Stock List Of Articles With Excerpts
Visa Stock List Of Members Only Articles
VISA Stock External Links