My outlook for today was way off mark. Talk about being blindsided! So now where is the market heading? Looking at the chart it would appear the market is heading lower before it can move up. Technically a lower close today than yesterday's open means we have more downside ahead of us.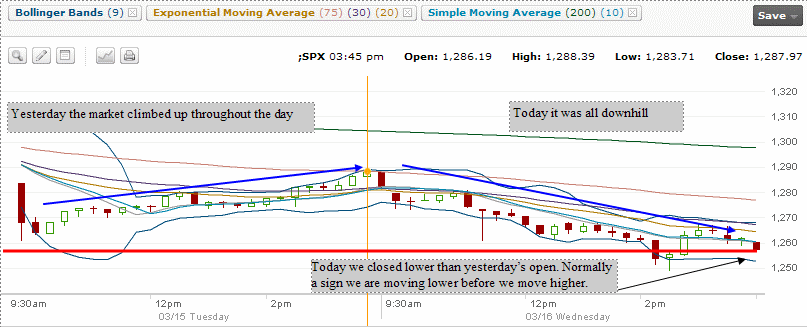 Here is a longer term view of the market. Today the S&P touched the 100 day EMA. A simple technical method that has been used for years on the market is using the 20 day, 50 day and 200 day EMA. When the 20 day EMA crosses the 50 day EMA the short term trend is down. When the 50 day EMA crosses the 200 day EMA the longer term trend is down and vice versa for market up calls.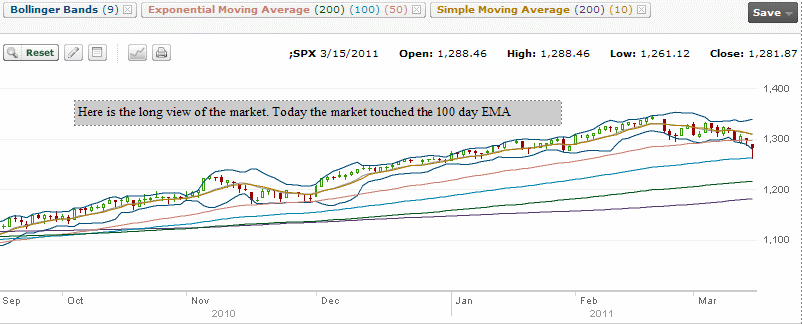 Below is a 3 month look. The 20 Day has not crossed the 50 day EMA but just a couple more down days could give that short term down trend signal. Does the signal actually work? Surprisingly it is pretty accurate, but this simple method cannot pick the top or bottom of a market, as often, the trend has to become set before the EMA can indicate a clear direction. The short term signals are a little more inaccurate as sometimes in a choppy market like last summer (2010) the signal was given twice of market down and twice of market up. So being whipsawed definitely happens.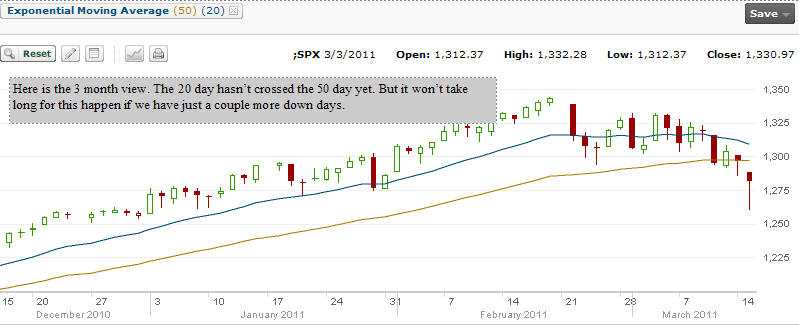 The problem the market faces now is the Japanese disaster, Middle East uprisings and the high price of oil. These three have finally proved the market's undoing (notice how often things happen in three's and I'm not superstitious) The question now is, if any of these gets taken out of the picture, will the market resume its climb? Short term though, I believe the market remains in a downtrend. How low is tough to say, but the 200 day which is around the 1210 to 1220 level on the S&P could be the first spot to keep an eye on. Right now I am reducing the number of put contracts being sold in order to keep some of my capital available for opportunities as they present themselves.