Let's look at the 3 all important indices for this week.
Below is the XLF sitting just below the all important $15.00 support level. I discussed this level back on July 8 .

The SPX is sitting at 1313.64. 1310 marks support. 1300 marks the last line of support. From there I think it will be an easy drop to the 200 day. If the market gets there, then it will be time to reassess.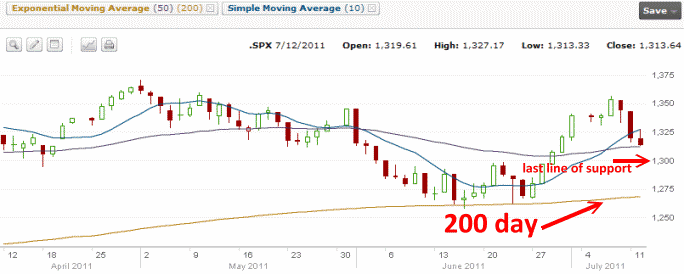 I had indicated that this week, it would be important to watch the NASDAQ. Today the NASDAQ fell further than the S&P 500 and the DOW. This cannot be a good sign.
.
All the indices are on the razor's edge. It will be a simple matter, to fall off. If that happens, then the previous fast, big rally will have been a great disappointment. That will take the market some time to recover from and could mean the July rally was one of the shortest on record.