Today was a good rally even if volume still was low. The market has almost recovered to last week's high on the 21st of June. If the market can break through this will be a nice improvement and could assist in laying the ground work for a rally in July. The S&P closed almost at the high leaving a very bullish candlestick. There are other good signs as well. The Ultimate Oscillator continued to rise higher today as did MACD. The slow stochastic broke the bear sign today and indicates a move higher.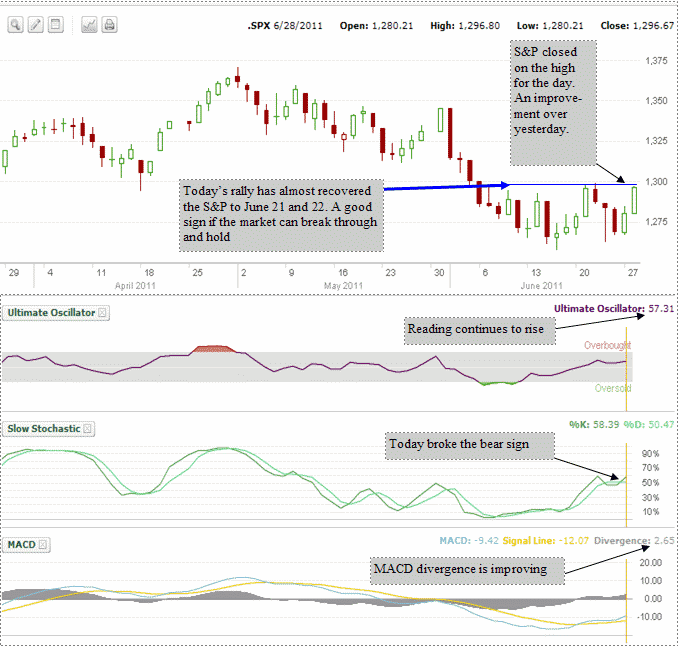 It's important to remember that a rally of a couple of days does not make a new trend. It is also important to remember that at no time during the recent downturn did the market break the 1249 barrier which marked the bottom of the March low, which is a good sign. I am not indicating the market may move higher overnight, but it does look more positive that even if there is weakness over the next few sessions, the market may be getting set for a rally into July. It is interesting to note how few stocks made new lows during the last few weeks despite so much doom and gloom talk. Many stocks are still, I believe, overvalued and did not fall enough. There is still a lot of strength in the market. Here is McDonalds.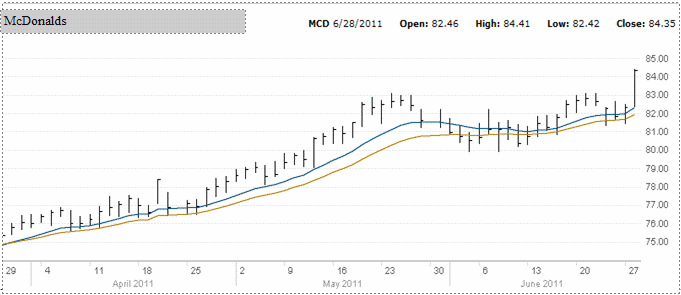 Here is another strong stock - YUM! Brands.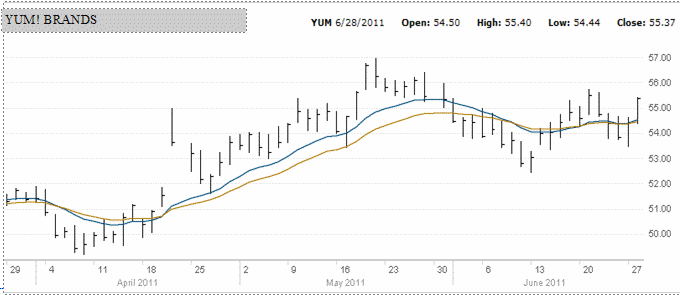 There are dozens of such stocks that have given back very little so far in this downturn. Here is Johnson and Johnson.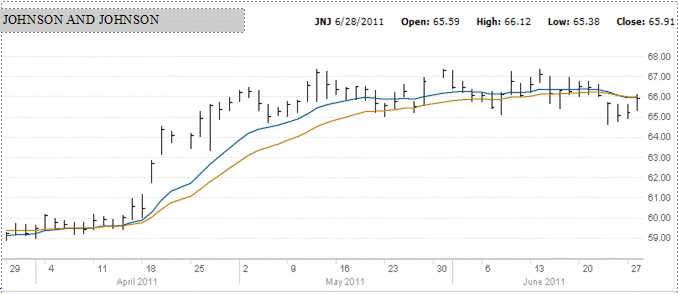 In previous market direction calls I have mentioned the XLF which follows the financial sector and how important it is for the financial sector to get out of its 6 month bear market. While there isn't a lot of life in the Financial Sector, the XLF might be indicating a possible bottom for at least a while, in the Financial Sector. While this still isn't good, the market might rally higher if the financial sector would stop falling.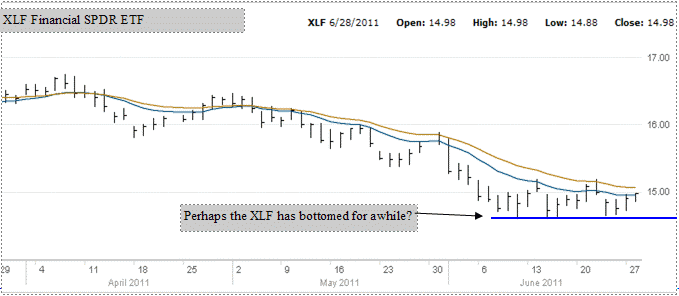 SUMMARY
As investors tire of the Greek Debt Crisis, the US Housing decline, the massive debt, debt ceiling, and more, it's important to remember that markets don't follow the present state of the economy. It is forward looking. In the latest ongoing downturn, many stocks failed to make new 52 week lows. With all the signs for the past few sessions showing renewed strength, could the market be preparing for a July rally?