Tomorrow is options expiry for June. I have a number of put options expiring tomorrow. I will be raising additional cash after tomorrow as I will not be selling as many naked puts. Unless tomorrow should see a major pullback, many of my positions will expire. I will not place additional trades. Instead I want to raise capital in case the market pulls back a lot further. The Greek Debt Crisis could end up pummeling stocks more than investors realize. I read a very good article today on www.marketwatch.com that agreed with my article that any default is definitely not "baked" into the markets.
People who are holding stocks really might want to consider buying protective puts. By going out to January and staying out of the money, put premiums are still reasonable. Shortly they may not be. The chance of this market rallying back and setting new highs this summer, I believe are probably 1 in a 1000. I guess if investors believe otherwise, then going naked without some put insurance is fine.
Here is today's chart on the SPY. I marked when I bought my SPY Sept 17 $126 puts for $3.90. The Oscillator showed a very good reading but remember, this reading is just for the day at that time. Meanwhile the MACD Divergence remained negative throughout the day.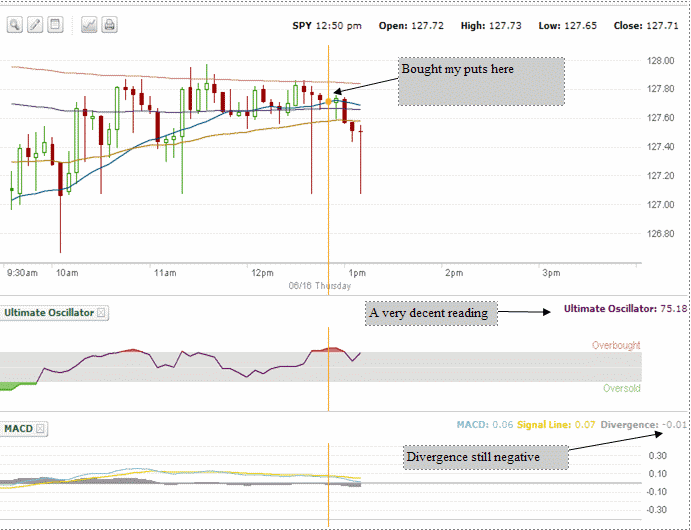 Below is yesterday's SPY chart. Look at how negative the Ultimate Oscillator reading and MACD are. This type of reading does not turn positive overnight. Because of yesterday (June 15) I waited for a rally and then bought near the top. It is not a tough thing to step in and buy spy puts because I have the confidence that the market is moving lower. If I am wrong, I have the cash cushion already built up to withstand a few losses. My hope is that the market doesn't fall apart, that Europe gets its act together, Congress gets its act together, oil prices stabilize, housing prices stabilize and unemployment falls. Now you can see how tough it is going to be for the market to climb this major "wall of worry."
SUMMARY
For myself, I am raising cash. I believe this market has not seen the lows yet. I hope I am wrong, but even today's action continues to look bearish. The market was up but by mid-afternoon the market fell apart before rallying back near the end. I bought more spy puts again today. I have my fingers crossed but I have to go with the technicals on this one and they are very bearish. One good thing though, there are a lot more bears now, than earlier this month.