Technically I had believed back on April 4 that the S&P would break through the February highs, however while the DOW did just that, the Nasdaq yesterday hit the 50 day Moving Average and broke through. Today it is having a bit of a bounce but the Nasdaq that has led so often since the March 2009 lows is now showing that old familiar double top. I am not sure the double top is in place and technically it's always hard to know exactly how the market is going to react but it has been thrashing about for several sessions and technically the Nasdaq now looks very weak. It could easily move down to the 200 day which would be a very bearish sign indeed. Below is the Nasdaq chart for today.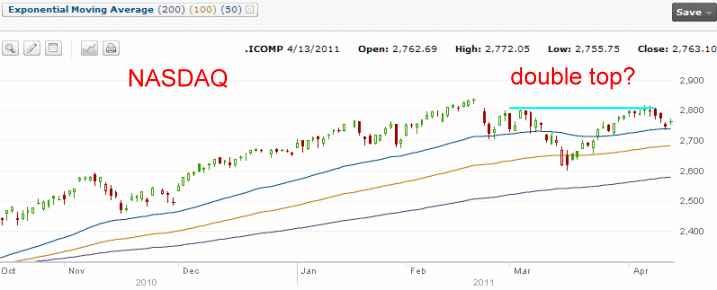 Below is today's S&P chart - yesterday we moved back to the 50 day and almost the same pattern has emerged - double top.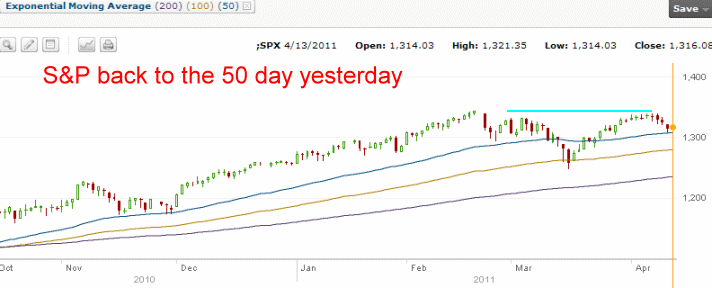 Meanwhile the DOW chart (below) does not confirm a double top and it has not touched the 50 day EMA either. Instead the DOW did break through Feb highs to set a new intraday high on the 6th of April at 12,450.93. It closed near the highs for the day but has not been able to move higher.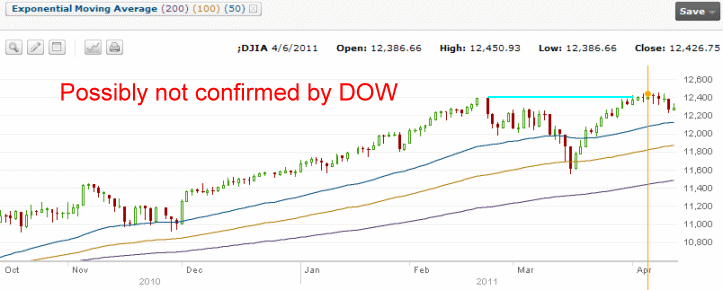 Overall the market looks weak and tired. Institutional buying continues to dry up. The only real plus is that April is one of the more bullish months of the year, but I cannot trade based on that type of statistic. I have to rely on my charts and my instincts. All the charts but 1 are flashing market top for now. Therefore I bought SPY puts this morning on the move higher. As is my strategy, I have a large cash cushion already built up in the SPY puts so I can afford to be wrong. But the strategy of the Cautious Bull which I implemented in January, tells me to close positions for profits and wait for better opportunities which may emerge shortly.