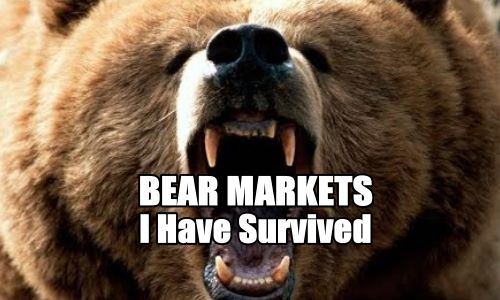 I get asked this question a lot. Here are the worst bear markets my portfolio has survived and prospered through. Just remember that when it is a bear market, it always seems like it is the end of markets and financial Armageddon is upon the globe.
My portfolio often takes a large hit in the downturn but options make a huge difference and have protected my portfolio and continued to generate income and profits for my portfolio through the bear markets below, except the 1973 to 1974 bear. It takes patience and time for portfolios to survive bear markets but these types of collapses provide enormous opportunities for trades and profits.
---
1973 to 1974 – "The Death Of Equities"
In 1973 to 1974 which is when I started investing, the market fell 48% and the bear lasted 21 months.  It was felt worse. This was the oil embargo great bear and recession. People lined up for hours for a bit of gas. I rode a bicycle 7 miles each way. Obviously I was younger and I must have been in great shape by the end of this bear market. I lost over half of my portfolio which was being managed by a full service brokerage. I left them during the recession and took a year to study options and their use and then returned to rebuild my portfolios. This was my start with using options to control risk.
This was such a horrendous bear market that on August 13 1974 Business Week (now Bloomberg) cover story was labeled "The Death Of Equities"
---
1980 to 1982 – Runaway Inflation and Change Of President
In 1980 to 1982 with inflation running wild, interest rates rose to 20% and the S&P fell 27.8%. I had to renegotiate my mortgage that year. It jumped from 8% to 19%. Instead I sold my house and bought a house with a lower interest rate of 11% and assumed that mortgage. Today assumed mortgages are a thing of the past but in 1980 it saved my wallet from big mortgage payments or having to move into an apartment. The bear lasted 21 months. It was so ferocious that it ended a one single term for President Carter and saw Ronald Reagan as a new President in the November 1980 elections.
---
1987 – Black Monday
In August 1987 to December 1987 which encompassed the Black Monday crash of Oct 19. The Dow Jones loss was 22.6%. The S&P fell 20.4%. This bear lasted just 3 months.
It was a staggering one day loss that I have never experienced since. No matter what anyone reads with today's markets, the crash was shocking and gut wrenching. My portfolio lost 40% of its value in a single day. Everything was being tossed out and by the afternoon investors even dumped bonds and preferred shares. With 30% of my entire portfolio in cash I jumped in and bought preferred stocks, bank stocks and some big name companies like Procter and Gamble Stock (PG) and Johnson and Johnson Stock (JNJ). By December the bear market was over and stocks were starting a recovery.
---
2000 to 2002 – Dot-Com Bubble
From March 2000 to October 2002 the bursting of the tech dot-com bubble saw a 49.1% decline and a bear market of 30 months. Losses were again staggering but many tech companies didn't even have balance sheets but their stocks had risen as a hysteria of sorts have hit the tech market. For years before the crash Fed Reserve Chairman Alan Greenspan had made his family "irrational exuberance" speech but few investors seemed to be listening as it was still 4 years before markets collapsed.
September 11 2001 – 9/11 Attacks
In the midst of this bear market came the 9/11 attacks. Markets closed Tuesday morning on Sep 11 and did not reopen until September 17.  This was the longest closing of the markets since 1933.  When markets reopened on Sept 17 investors rushed to sell in a panic. The Dow Jones fell 684 points for a 7.1% decline which was the biggest on day loss in one day in Wall Street History. By the end of that week $1.4 trillion was estimated to have been lost with the Dow Jones down 14%. The S&P was down 11.6%.  Within a month all three indexes had recovered to their pre-9/11 valuations.
---
2007 to 2009 – Credit Crisis
From October 2007 to March 2009 the credit crisis recession wiped out 56.4% of value in the second worst collapse in stock market history.
By comparison the Great Depression lost 89.2% of its value and had the longest bear market in US history. Over a 4 day period in 1929 the Dow Jones lost 25% of its value.
In the Credit Crisis by February 2009 the SPX had fallen to levels not seen since 1997.  The bear market lasted 17 months and saw the biggest bail out of banks in US history as Fed Chairman Ben Bernanke started a quantitative easing program that has been copied around the world.
---
Disclaimer: There are risks involved in all investment strategies and investors can and do lose capital. Trade at your own risk. Please read the full disclaimer.