The Spy Put is my hedge of choice (as many readers know). It has been successful for me since the SPY was introduced back in 1993. To read more about the SPY including history, performance and more you can select this link – SPY PUT. (Note this link goes through an ad first)
I emailed to readers my market direction call earlier today and my decision to buy the SPY Put hedge again. You can read it here.  I believe the NASDAQ is flashing warnings everywhere now. The SPY Put is what I use to hedge my entire portfolio of US Stocks. Yesterday I did two SPY Put trades. They were both small though while today I purchased 30 spy put contracts.
SPY PUT Trade – Today's Reasons:
Every trading session this week has opened with a gap. This happen in bear markets and are very rare events in bull markets. Since August we have had more and more gap opens as we are moving into the close of September.
The VIX is up 140% since the start of August.
September marks the 5 straight month of declines in the stock markets.
The past two previous trading sessions saw large rallies higher and then a selloff of the rally. This is incredibly bearish and does not happen in bull markets.
September marks a 7.2% decline in the S&P500. One of the worst performances in years. The S&P is down 14% for the quarter, the worst in 2 years.
The NASDAQ is flashing bear signals everywhere and in the past few sessions is starting to collapse earlier than the other markets.
The Dow Transports are down more than  over 22% for the quarter.
SPY PUT Trade – Why The August Low Will Break:
The August 9th low has held for three pullbacks but the volumes are becoming anemic and getting worse. The buyers are moving lower with their bids and this will eventually break the August 9th support levels.
CNBC today is filled with analysts telling everyone that stocks are cheap and now is the time to buy. Analysts are rarely correct and picking a market bottom is difficult at best.
For myself I prefer to continue with my strategy of buying spy puts for protection and selling far out of the money puts at strikes I would own my favorite stocks at. It's important to remember that analysts are looking at small segments of the global market. None look at the overall economic conditions worldwide. They are knowledgeable about small sectors and individual stocks only and are there to promote them.
When analysts begin to worry that the market is falling too low, that's usually when I know that the bottom is near and I move my far out of the money puts up a bit closer to at the money. We are definitely not there yet as analysts still think stocks are really cheap, which I do not believe they are.
However today for the first time I am hearing some analysts on CNBC and BBN say that if the market breaks down then it is signalling a recession is ahead.
SPY PUT Trade – Today's Purchase and Chart
With all this in mind and because of my market direction call, I have purchased SPY Puts (30 contracts) for 17NOV11 expiry at the $115 put strike at $6.05. I plan to hold these over the weekend but if the S&P should fall 2% at the close I will unload 10 SPY Put contracts and hold the 20 remaining ones over the weekend.
Below is today's chart. You can see where I bought my puts in the late morning. We had another gap open to start the day.  The ultimate oscillator was not in overbought territory but it was close enough for me as I am convinced the market is going to collapse a lot lower, so it really doesn't matter if I buy here or wait to see if the SPY put gets a little cheaper shortly.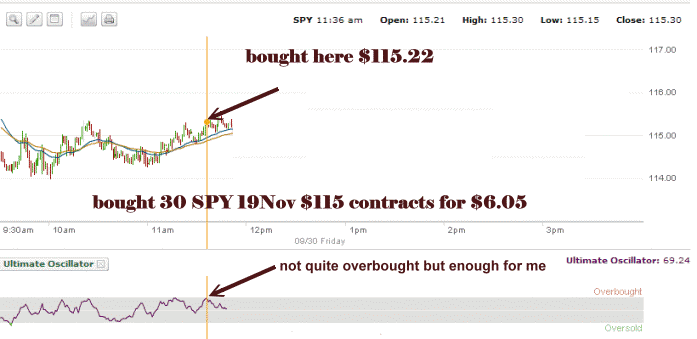 The SPY Put trade is the best means I have found to protect my overall portfolio. The purchase of spy puts today was done as I am convinced the market is going to fall further in the coming week.
Remember trade at your own risk. Investors can and do lose capital. While the SPY put is my hedge of choice I do not recommend any investor copy my trades but work to develop their own strategies to protect their portfolios and profit in this high volatility environment.
View the SPY PUT Trades for 2011