On my last article on Oct 18 2013 I commented whether the bounce in YUM Stock was over. On Wednesday it certainly seemed like it was with YUM Stock pulling back another 2.83% closing the day at $65.17. Intraday YUM Stock fell to $64.08 but recovered back to the same major support line it has managed to hold onto over much of the past year, namely $65.
Put Selling Yum Stock is incredibly lucrative but even more so with the present heightened volatility. But to sell puts safely means knowing what strikes have the best chance of not being reached in further downturns over the short-term.
Yum Stock and High Growth Markets
On Tuesday Oct 22 2013 YUM Brands announced that it would be expanding into India. Investors took this as an obvious sign that YUM Brands is having trouble in China. It's market leader in Asia, KFC may not do as well as YUM Brands expects in India. These are very tough markets to expand into.  Yum Brands reiterated its commitment to spend $10 billion by 2020 on what they label as high growth markets. They are already opening 5 new restaurants every day outside the US and plan to have a record 1450 new restaurants in emerging markets this year. Over the next 7 years Yum Brands is planning to have 20,000 restaurants in these so-called "high growth markets".
Yum Stock Buying Back Debt
On Tuesday as well, YUM brands commenced cash offers to buy back $525 million of outstanding debt securities which are paying higher rates of interest and plans to offer new securities at lower rates of interest. This is a move that hundreds of corporations have done in this historic low-interest rate environment. It is a smart move on the part of Yum Brands.
Yum Stock Downgrade
On Wednesday Oct 23 2013 Janney Capital downgraded Yum Stock from Buy to neutral using the bird-flu as their primary concern.  Their price target is $65 which is right at support. It was this news coupled with the downturn in stocks on Wednesday that sent Yum Stock tumbling through support at $65 to $64.08 before it pushed back up to close right at support again.
Yum Stock and Support at $65
Yum Brands is determined to provide shareholder value. You can tell that so much of what they are doing is aimed at improving their ROI. However the constant pressure on $65 will begin to erode investor confidence and bring out sellers.
Yum Stock Volumes
Looking at the chart for the past 11 trading days you can see the huge sell volume on Oct 9 and a repeat performance on Oct 23. These are massive volumes and show the extreme nervousness of investors. This type of selling cannot continue without pushing the stock lower.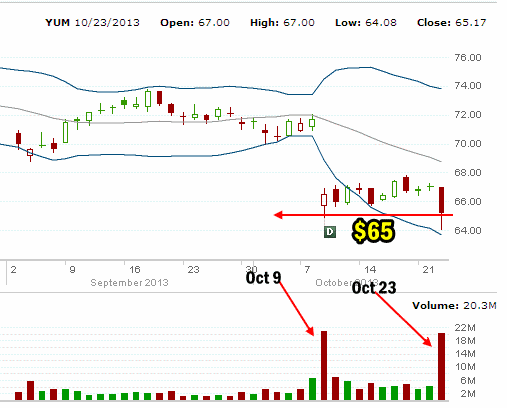 Where Support Lies For Put Selling
If we go back and look at Yum Stock over the past 3 years there are three distinct layers of support. The $65 is very strong support which at present is being tested. The next level is $63.00. If $63 breaks, there is no real support in the stock until $56 which goes back to 2011. YUM Stock could set up a new range and trade between $60 on the low end to $65 as the high until the next quarterly earnings but if they fail to improve the stock could break through $60 and head back down.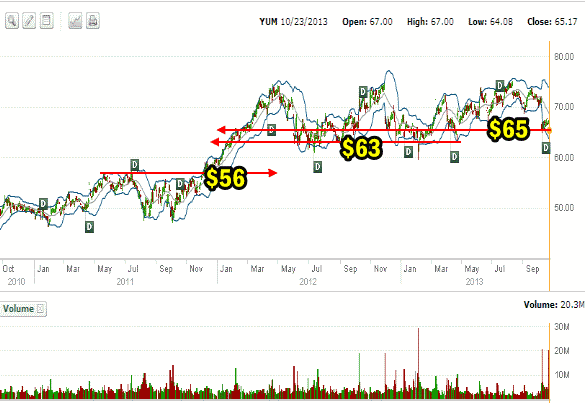 The first line of defense for investors who do not want to own shares is to make sure to roll down when their strike price is hit. The best put strikes at present in my opinion are $62.50 and the $60. Today plunge back below $65 pushed up the Nov 16 options at the $60 level to 35 cents or better than half a percent. More than 5900 put options were traded at 60 and even the $57.50 for November saw 7700 put options traded.
Preying On Yum Stock
investors smell trouble ahead and the sheer volumes of puts being purchased show they are circling to prey on Yum Stock for profits.
Staying Cautious with Yum Stock
This is a time to stay cautious with YUM Stock especially if there is no interest in owning shares. The roll down must be done when the put strike is reached to work quickly to try to keep any roll down profitable. The $57.50 puts have a lot of strength in them. They are just above the $56 support level and make a good choice if the $62.50 breaks.
YUM Stock Outlook and Strategy
Yum Stock is stronger than it looks at present but that does not mean investors won't bail out if the stock continues to fall. As was seen in today's volume. When a lot of investors get caught up in selling they draw even more investors. The numbers today and on Oct 9 indicate that not just small retail investors were getting out of the stock. It also shows that larger investors, such as pension funds and the like were also dumping shares. Far too many shares traded hands to be all retail investors.
Stay cautious and keeping an eye on the stock is the best course of action in my opinion. Rolling down when the strike sold is breached is also important. Failing to roll down could find a lot of investor with deep in the money naked puts. It is always best to react at the outset rather than wait until it is too late or too difficult to roll down or roll down and out without losses.
Rolling from $65 to $62.50 and then $60 and finally $57.50 should more the suffice against any further declines in YUM Stock should they happen. By the time I am down to $57.50 in my put strikes I know I am going to begin to wonder if I shouldn't be considering picking up shares as at $57.50 the stock is reasonably priced for any kind of rebound.
Yum Stock Internal Links
Yum Stock Members Strategy Articles
Yum Stock External Links