Barrick Gold (ABX) yesterday announced good earnings of .58 cents a share versus estimates of .50 cents. They then went on to announce that their Pascua Lama deposit in South America would be suspended with no real-time frame to recommence operations. Last they announced a massive issuance of stock valued at roughly $3 billion dollars effectively diluting shareholder value. The shares were offered at $18.35 about 5% below the closing price of $19.39 on Friday. Shareholders understandably were shocked and upset. This is the second $3 billion offering by Barrick Gold in the last 5 years. An offering in 2009 of $3 billion was filled at $38.95 and analysts applauded the share issuance in 2009 as being very shrewd on the part of management.
Naked Puts Strategies – Rolling Down Profitably
Barrick Gold Stock (ABX) is obviously in disarray. A second share offering within 5 years for a total of $6 billion dollars of infusion shows this stock is not meant to be held. As well like all gold stocks iI sways to the swings of the price of gold itself. ABX Stock is not a buy and hold strategy stock.
Instead Barrick Gold Stock is meant to be traded. My strategy has been Put Selling against this stock. This has resulted in more profits from Barrick Gold Stock for my portfolio than the company has provided to those who bought and held even if they bought this stock 5 years ago in November 2008.
One important aspect of Put Selling within ABX stock is that of knowing how to roll down Naked Puts to stay ahead of assignment and to profit during a stock collapse. Barrick Gold Stock has already had two massive stock collapses this year. Today as well saw a 7 percent decline. The last two collapses resulted in profits for my Put Selling portfolio despite the steep loss of stock value.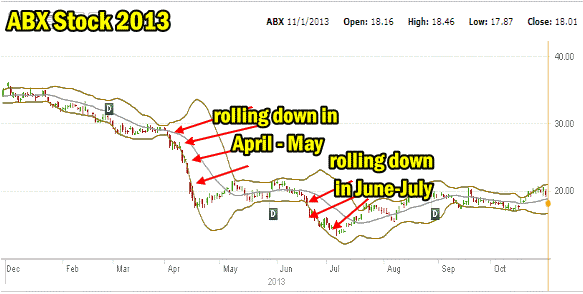 Rolling Down Naked Puts Explained
This strategy article for FullyInformed Members is lengthy at 3200 words and will need 10 pages to print. It is this long to explain in detail how I roll down naked puts in a collapse of a commodity stock like ABX Stock. The most important aspect of Put Selling is learning how to defend positions and protect capital both from losses and in the case of ABX Stock, from stock assignment. Protecting against losses when Put Selling is as important as earning profits. Owning shares of ABX stock is not part of my goal. I have no interest no matter how low or high this stock moves to own shares.
To profit from the heightened volatility of ABX Stock, especially after diluting shareholder value even more with the new stock announcement, it is important that rolling down strategies for naked puts are done profitably and without ever owning shares.
Rolling Down Strategies For FullyInformed Members
To read this strategy article on rolling down techniques for naked puts in ABX Stock, FullyInformed Members can login directly through this link or Members can sign in to the full members site here. Non-members can join here or review the benefits of membership.
Barrick Gold Stock (ABX) Internal Links
Review Barrick Gold Stock Trades For 2013
Review all Members articles on Barrick Gold Stock
Review all articles on Barrick Gold Stock
Barrick Gold Stock (ABX) External Links
Review Investor Relations for Barrick Stock