The breakout today for Microsoft Stock (MSFT) was based on investor enthusiasm but often this is all it takes for a stock to break out into virgin territory. For Microsoft stock, $38 might not be completely new but it has not been this high in 13 years. In 2007 before the bear market crash, it traded as high as $37.50. In June 2001 Microsoft Stock managed to trade up to $38.08. This marks a milestone of sorts then for the stock.
What Put Selling Strategy To Use Now
With Microsoft stock (MSFT) now up to $38 and probably moving higher where does that leave Put Selling? Personally I think the enthusiasm is overdone a bit here. To keep the stock higher Microsoft needs revenue growth. Still though my Put Selling has brought in 36% this year alone so I certainly don't want to give up on the stock now. Let's take a look at the latest chart and then look back a bit.
The past 6 months of Microsoft Stock (MSFT) has seen some excellent Put Selling opportunities. At present there is light support at $35 and no support to speak of above that. Meanwhile on Oct 25 MACD had issued a buy signal and on Nov 5 the Slow Stochastic had also pointed to up.
Today I closed my $30 strike naked puts for Nov 16 expiry for 1 cent.  In the morning I also sold the Dec 21 $35 naked puts for .38 cents. That leaves me holding two sets of puts for $35 and $33 for the December options expiry. You can tell that what I have done is commenced a Put Selling ladder strategy on Microsoft Stock.
In any pullback over the next day or two I will sell the $34 put strike.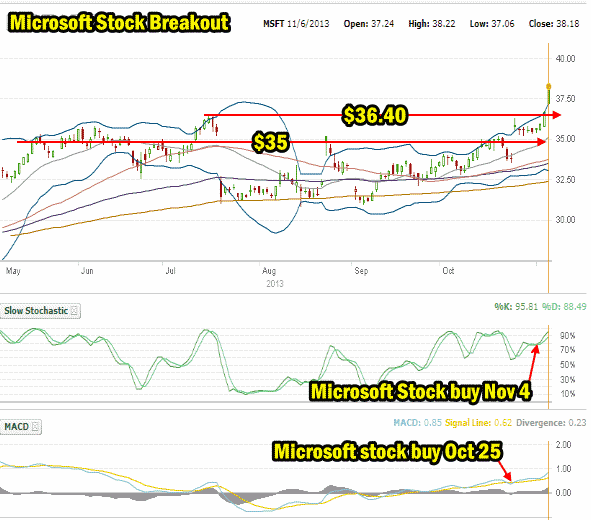 Microsoft Stock 5 Year Weekly Chart
The 5 year weekly chart below shows where over the past 5 years the majority of support has been in Microsoft Stock. You can tell by the volume indicator against the 5 year weekly, where the majority of shares have traded hands. The blue line in the middle of the volume indicator marks average weekly volume. Note how the volume in Microsoft stock since the stock moved higher is at times below average.
Three Support Levels in Microsoft Stock
Aside from the bear market when Microsoft was trading below $20, the three areas of very good support are at $24.40, $27 and $30. Those areas have solid support. You can see that at present there is no support for the higher valuations and indeed Microsoft Stock has so rarely been this high that it is impossible for the stock to have support above $35.00. This is why the $35 was the last put strike I was selling at the present time.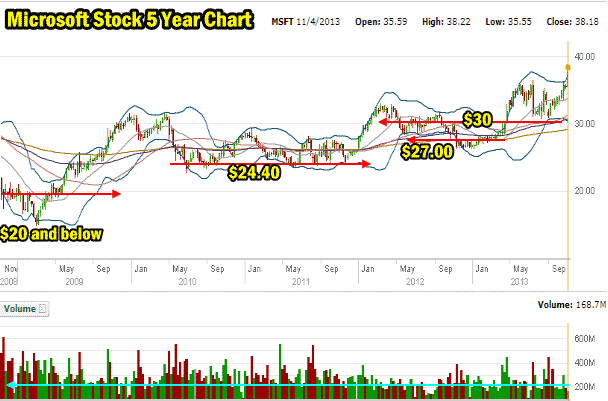 Using The Support Levels
With Microsoft stock continuing to rise there are a few things to consider for Put Selling and stock trading. The first is of course if the stock fell back to $30.00 or even lower it would be a definite buy. At $27.00 it is a steal so if the market ever had a quick one day drop or such and Microsoft stock was that low it would be an immediate buy. The second strategy now that I will be using is Put Selling Microsoft Stock while it is in an uptrend through the Put Selling ladder strategy.
Put Selling Ladder
In my instance the last Microsoft Stock put strike I am willing to sell at this time is $35. However I can create a put selling ladder by selling the $35, $34 and $33 naked puts. There are a number of different variances to the Put Selling ladder and applying it to Microsoft Stock. That is covered in a more detailed strategy article on the members section. However to assist non-members, the basic concept is to sell more put contracts in Microsoft stock at lower levels and the least number of put contracts at higher levels.
Should Microsoft Stock move higher from here, the strategy then will change to moving higher but selling even fewer put strikes. The reason for this of course is if the stock pulls back then the various put strikes if assigned will average an investor lower into the stock making it easier to roll down or sell covered calls to get out.
For example, selling 5 naked puts at $35, 10 naked puts at $34 and 15 naked puts at $33, would place an investor into the stock if assigned on all of these naked puts at 33.66 which is closer to the lowest put strike at $33.
There are other advantages to the put ladder as well but again this requires a deeper strategy article which is what the member section is for.
Put Selling Microsoft Stock at Present
At present in Microsoft stock I am holding 5 naked puts at the $35 strike and 10 naked puts at the $33 strike. With the majority of naked puts down at $33 I am in good shape if the stock pulls back to $35 or below. I will be looking for any dip in Microsoft stock over the next few days to sell the $34 strike naked puts and complete 3 rungs on a Put Selling ladder.
The breakout is nice to see in Microsoft Stock after so many years but overall the sideways pattern of the last decade has made my portfolio fat with Microsoft Stock put premiums as the stock was easy to sell puts against as it stayed in a simple to follow trading range. Now that this is over at present, it is time to bring out the Put Selling ladder as the next strategy of choice for Microsoft Stock.
Microsoft Stock Internal Links
Index of Microsoft Stock Articles
Microsoft Stock External Links
Microsoft Stock Investor Relations
Microsoft Stock Financial Statements