The outlook for market direction today was for stocks to move lower. I had expected the S&P 500 to try to fill the early morning gap from yesterday which was around 1771 and then head lower. Instead the S&P is up at new all-time highs of 1776.25 at the time of writing this intraday comment. So what happened? The biggest news came just before the markets opened with Macy's announcing stronger than expected results and its stock shooting up from the open. Could Macys Stock lead the retailers higher? Here is a look at the 3 big retailers I follow and what Put Selling opportunities there may be now and in the near future.
Macys Stock (M)
The good earnings were followed up by a positive outlook from Macy's which shot the stock up more than 9%. Looking at the chart from Macy's stock over the past 6 months the stock is basically back up to where it was trading in mid-summer. The push to $50.95 in my opinion is still too high for the stock and I believe it will fall back to trade between $48 and $49.50.  The next level of support in the stock is down around $43.50.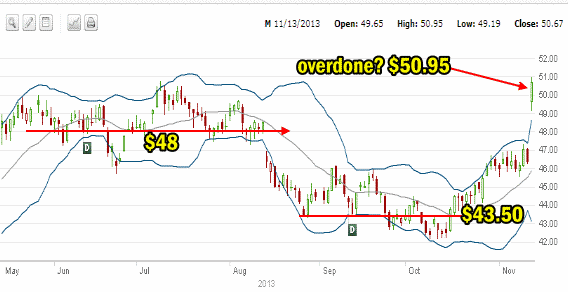 Obviously looking at the put option premiums for Dec 21 2013 expiry, I am not alone in my thinking. Below are the put option premiums for Dec 21 2013 expiry as of 2:00 PM. The $48 strike is pretty compelling at .70 cents but even the $47 put strike is interesting to consider. For myself I prefer Target Stock and Walmart Stock, but you can see by the premiums that the market maker also believes the stock is overdone and will pull back, which is why the put premiums are so high.
I think the stock will pull back shortly and I will be interested in seeing what these put premiums will be like by the end of the week. This could make for some profitable Put Selling trades.
Walmart Stock (WMT)
My preference is Walmart Stock which trades under the symbol WMT. There are two support levels in Walmart Stock at present. At $74 there is very light support that goes back to earlier this year and over the summer months. The stronger support level is $72.50 which is also a level I have sold puts at on and off over the past several months. Commentators this morning pointed out that Walmart Stock did not join the Macy's Stock in any kind of jump higher on Macy's news. Part of that in my opinion is because Walmart Stock has already been rising and is already sitting back at its mid-summer highs. Macy's stock on the other hand had not recovered its mid-summer highs so the big jump in the stock today is somewhat expected although I still think overdone.
The Walmart Stock $75 naked puts for Dec 21 2013 options expiry can be sold this afternoon for around 40 cents but that at present is about as high as I would go with Put Selling against Walmart Stock and I do not see any attraction in selling puts at $75 for slightly more than half a percent. I am sure that either after the Christmas or early in the New Year Walmart Stock like all the retailers will be lower than where they are trading now. That will be my time to get back interested again.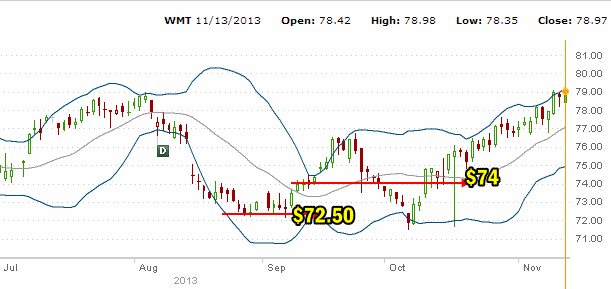 Target Stock (TGT)
Meanwhile Target Stock has been my main Put Selling stock in the retail sector since it pulled back. in late August. The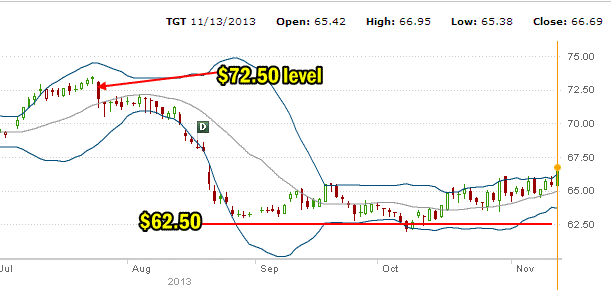 The Dec 21 2013 puts as of 2:00 PM are below. I am holding the Dec $62.50 puts which I sold on Nov 8 for .88 cents.  Even today at .44 to .46 they make for a reasonable trade.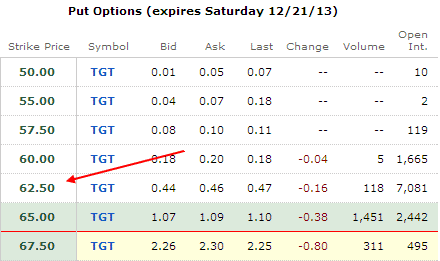 The stock is up 1.88% on Macy's earnings and outlook news, but it could have further to move as it has not come close to recovering its mid-summer highs which were around the $72.50 level. From present prices a rise of that magnitude would be 8.7%. That seems like a lot for an overnight move in Target Stock which is why I have no interest in chasing the stock higher. At this point I prefer holding my $62.50 naked puts and see what earnings are like when they are released on Nov 21.
Retailers Put Selling Opportunities Summary
Walmart Stock is too expensive in my opinion, but if their earnings which are released tomorrow are poor, the stock could tumble which would give me a chance to sell the $72.50 puts again.
Macy's Stock rise today is overdone so when this stock pulls back I think there will be some good Put Selling opportunities.
The best stock at present is Target Stock but as I am already holding puts at $62.50 put strike for Dec 21 expiry I have no need for selling additional put contracts. Overall I think all three companies are worth keeping on the watch list for those investors interested in put selling.