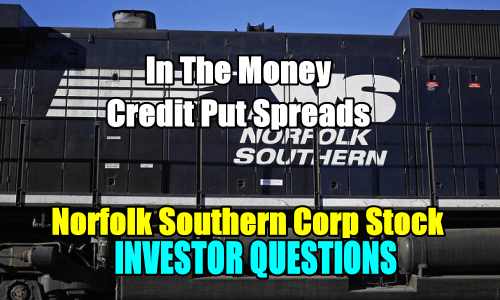 An email from an investor who is holding credit put spreads on Norfolk Southern Corp Stock (NSC) is the focus of this rescue strategy.
Let's review the questions and then see what answers can be found.
 Investor Questions
Dear Teddi,
The Norfolk Southern  (NSC) short puts in the credit put spreads I had went ITM and I rolled them; I made a mistake in my first roll and have an initial loss of $7,743 and with last week's rise in NSC I can close all put credit spreads for a smaller loss of about $3,500 which will take almost all of my available cash.
When I opened my put spreads, I didn't look beyond September 15 because it seemed a long way away at the time and I was later shocked to see that there were no October options, which is when earnings will be reported.
Exacerbating my problem is this change in expiry of NSC from weekly to quarterly, starting with the September 15 expiry, which is something I have never seen before. I had planned to roll past the next earnings, if necessary,  October, but when I looked, the next expiry was December 15, which is a long time in the future.  I rolled a few spreads to December 15 because they were piling up at the September 15 edge of the chasm.  I am hesitant to roll more spreads out to December because the transports are falling and I do not know how far down they will go.
If you can tell me where you see NSC going in the short term and long term to December, that would be very helpful. All of the transports seem weak, which makes me wonder about the continuation of this rally.
My current NSC spreads and closing prices on Fri 8/4 are:
9/8/17 12 each long $105P @40 cents    $480.00            BTO 91 cents    -$1,088.30
9/8/17 12 each short $115P @$2.60    -$3,120.00           STO $4.05         $4,854.59
9/15/17 24 each long 100P @20 cents      $480               BTO 54 cents    -$1,306.63
9/15/17 24 each short $115P @$3.50   -$8,400.00          STO $4.86        $11,653.17
12/15/17 5 each long $100P @20 cents   $850.00            BTO $2.04         -$1,018.46
12/15/17 5 each short $120P @$9.70     -$4,850.00         STO $10.57       $5,286.45
Cash needed to close:                            -$14,560.00        Gains from open: $18,380.82
Closing near Friday's prices for $3,800 gains from previous loss of 7743 reduces the loss to less than $4,000.
Whatever ideas or help you can provide will be appreciated; you have thousands of times the experience that I have and your experience and ideas are greatly appreciated.  I am considering taking the loss and opening more promising spreads.
Thank you for all you do for us.  Without you and your website, I would be many years behind in the experience I have read and incorporated in my decisions.  I hope all of this makes sense as I am always concerned by typos.
Thank you more than I can say for all of the help, support and comfort you give us in this strange world of puts that you were "born to sell" (LOL) so that we may one day feel the same,
Sherry
Some Answers
This mistakes that Sherry made are common among investors and can be repaired. The rest of this strategy article looks how how to approach a rescue or repair of these Norfolk Southern Corp Stock credit put spreads. It is for members.
  This Norfolk Southern Corp Stock rescue article is 2000 words and requires 6 pages if printed. It is for FullyInformed Members.
 

Investor Questions – Rescue of Credit Put Spreads On Norfolk Southern Corp Stock – Aug 10 2017





---
---
Disclaimer: There are risks involved in all investment strategies and investors can and do lose capital. Trade at your own risk. Stocks, options and investing are risky and can result in considerable losses. None of the strategies, stocks or information discussed and presented are financial or trading advice or recommendations. Everything presented and discussed are the author's own trade ideas and opinions which the author may or may not enter into. The author assumes no liability for topics, ideas, errors, omissions, content and external links and trades done or not done. The author may or may not enter the trades mentioned. Some positions in mentioned stocks may already be held or are being adjusted.