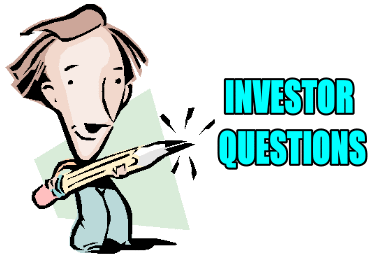 I received an email from an investor on August 1 and sent a reply to his gmail.com account. Today I found out that he never received it. For those investors with gmail, outlook, yahoo or AT&T emails, please whitelist my domain of fullyinformed.com, otherwise, as this investor found out, you may never get my reply.
To help this investor out I have posted my reply to him from August 1 and I have extended his membership by a few days but to stay in touch instead of email which is often not delivered, the members only forum is an excellent way to ask questions. Whenever any member logs in, you are immediately able to post to the members only forums. The forums are found through the top navigation bar, right beside the Investing Tools link.
Let's review his questions and look at the answers I was able to provide.
 Investor Questions:
Hi Teddi,
New member here. I'm new to options and I'm glad that I found there are other ways to investing other than just buying and selling shares.
I have a question. What brokerage account do you use?
I have RBC direct investing account and they have the following limitations 1. Option pricing is costlier than your's. They have $1.25 per contract + 9.95 per trade.
2. They don't allow naked call selling. You have to own the stock and then sell covered calls.
3. I didn't do put or call spread trades yet. But when I called them they said the margin with held does not decrease by doing a credit put spread trade.
They just treat buy put and sell put as two separate trades.
4. When the shares get assigned they treat that as though that order has been placed over the phone through a representative. I did only one put selling trade and the shares got assigned on expiry and the brokerage charged was $85. When I called them that is what found to my surprise.
5. Although I don't need this thought I would mention this anyway. They don't have futures or currency trading available.
Since I'm also from Canada (Toronto) I would love to know which brokerage account you use or recommend.
From: inuscan
Some Answers:
I am not a financial planner or adviser so I cannot recommend anything. However I can provide my opinion on what inuscan has encountered and some suggestions on what he might consider doing.
This article reviews inuscan's questions and discusses a number of steps he could consider for his investing needs.
  This strategy discussion article is for FullyInformed Members.
 

Investor Questions – Problems With RBC Direct Investing – Who Is The Best Canadian Discount Broker





---
---
Disclaimer: There are risks involved in all investment strategies and investors can and do lose capital. Trade at your own risk. Stocks, options and investing are risky and can result in considerable losses. None of the strategies, stocks or information discussed and presented are financial or trading advice or recommendations. Everything presented and discussed are the author's own trade ideas and opinions which the author may or may not enter into. The author assumes no liability for topics, ideas, errors, omissions, content and external links and trades done or not done. The author may or may not enter the trades mentioned. Some positions in mentioned stocks may already be held or are being adjusted.