Clorox Stock raised its dividend recently and on Oct 24 it will pay out 7% more or .64 cents each quarter for shareholders. Clorox Stock symbol is CLX and it trades on New York. Clorox stock has been in my portfolio for quite a few years. It has always had a fairly easy to manage trading range for put selling. However the earnings report of5.47 billion in earnings for fiscal 2012 was slightly ahead of analysts estimates and the projected growth of 5.67 billion for 2013 got investors buying Clorox Stock and pushing it into over valued territory. The announcement of the 7% dividend increase for Clorox stock also lit a fire under the stock.
On Friday my October naked puts expired and left me holding just 8 naked puts into January at $65 and the $67.50 strikes.
Clorox Stock Benefits Of October Options Expiration
On the one hand I am disappointed that the stock is so over valued but on the other with my October $67.50 puts expiring this has reduced the capital needed for my Clorox stock Put Selling from $87037 down to $53274 and reduced the share price valuation should I be assigned on my naked puts from $44.77 to $30.55.
The capital now freed up can be set aside either in cash reserves for new positions or simply held until Clorox Stock returns to a reasonable valuation for Put Selling again.
Clorox Stock 3 Year Stock Chart
The 3 year Clorox Stock chart below. Over the three years the stock has gained 23% in value. The dividend has gone from .50 cents to .64 for a gain of 28%. Based on the chart and the earnings I would expect a trading range of between $67.50 to $70.00 unless there is a significant stock market correction. I would expect a serious stock market correction to push the stock between $50 to $55.
With the stock currently at $75 it is 6 percent above my trading zone. This makes Put Selling difficult within my trading zone as put premiums are poor even going out to April 2013 the $70 puts are $1.60 or just 2.2%.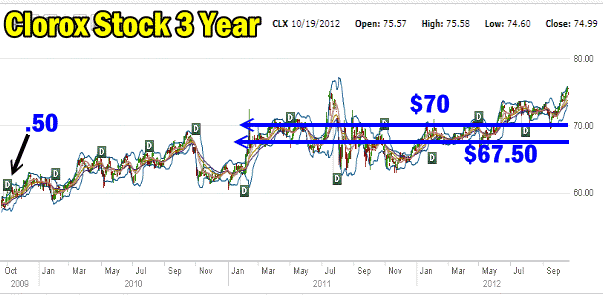 Clorox Stock Adjusted Put Selling Strategy
The Put Selling strategy then for Clorox Stock going forward will be Put Selling on dips and picking the two strikes, $70 and $67.50. I will most likely have to go out several months, perhaps as much as 6 to make Put Selling worthwhile. However a stock market correction could change that and allow me to return to Put Selling when Clorox stock falls back into the above trading range.
Clorox Stock Internal Links
Review CLOROX Stock Trades For 2012
Review CLOROX Stock Trades For 2011
Review CLOROX Stock Trades For 2010
Review CLOROX Stock Trades For 2009
External Clorox Stock Links