Bear Market Trashing Blue Chips
There are many things to look at when it comes to confirming a bear market. One of the things I look at is how long big multinational Blue Chip Stocks can hold up. Today the losses were huge across the board. This rarely if ever happens in a Bull Market. Even a bull market in correction will see pressure on multinational Blue Chips, but not large losses and now after a week of selling, the big multinational's are giving back their recent gains. Many are down 10% and some are down 15%.
This tells me that any rally has to be suspect and sold into. This is not an environment for buy and holders unless they have a long term outlook or are seeking dividend income.

Below are just a few that I follow.
Bear Market Trashes McDonalds Stock – Down 7.5% From Recent High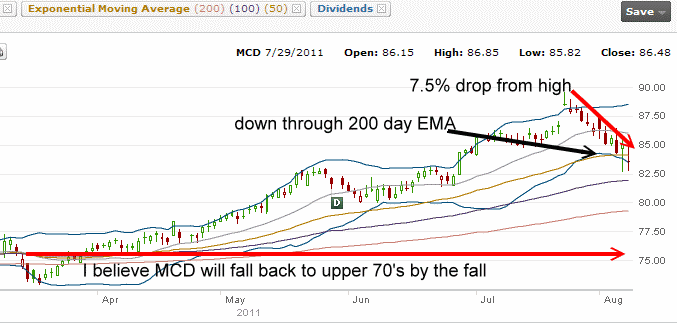 McDonalds is down 7.5% and both on Friday and again today it has decisively broken the 200 day Exponential Moving Average. I indicated back on May 23 2011 when McDonald's stock (Select the link and scroll to May 23 2011) broke through $80.00 that I felt the stock was over valued for my strategy of selling puts against the stock.
I now believe McDonalds stock could easily pull back to the Upper 70's before it even tries to make a new high. The chance of it trying to make a new high I believe is very limited, particularly with the Bear Market moving in the worst period for bear markets – September and October. Both of these months have been typically terrible months for bear markets.
Bear Market Trashes PepsiCo Stock – Down 12% From Recent High
Pepsico broke decisively through its 200 day Exponential Moving Average a couple of weeks ago and is trying to make a base at this level. This is a huge multinational company, the world's biggest snack provider. I believe the stock will fall below $62.50 and I plan to sell puts at the $60.00 and under level. With any more panicking Pepsi Stock could easily fall below $60.00.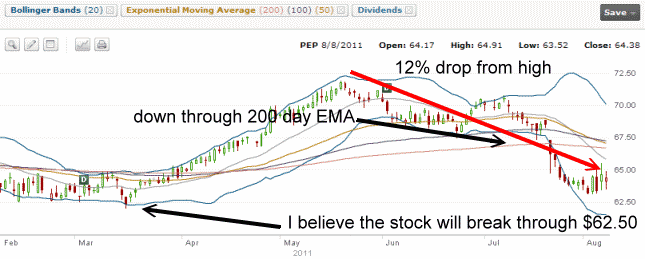 Bear Market Trashes Yum! Brands Stock – Down 15.6% From Recent High
The bear market is really smashing YUM! Brands Stock. Down 15.6% from its most recent high, Yum brands sliced through the 200 day exponential moving average easily and now is trying to bottom. I started to sell puts again on YUM! Brands today as I believe anywhere below $48.00 is a great price for this rapidly growing company. YUM! Brands could easily fall to $46 or even $45.00 in a panic. That's the great thing about selling naked puts on a company even in a bear market. It affords me a better price and the chance to change my mind and roll even lower with the company.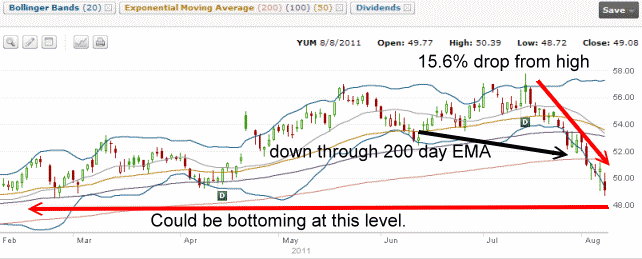 I have more to post but that's it for now as I am back to trading my stocks!