The Reverse Put Ladder Explained
For example, with options expiry today, I bought and closed the June $25 puts and June $24 puts for profit. These puts were part of the previous put ladder options from previous months. Meanwhile the options ladder remains intact as I am still holding puts for July at the $23 strike and October at the $21 strike. That left a whole in the options ladder. Therefore as August didn't have any puts sold, I sold puts in August at the $23 and $22 strike. When July options expire I will continue the ladder option and sell September put strikes. The August puts I can roll into November or December. The further out the puts go the lower I can stay with my strikes. This is the beauty of the reverse put ladder. (its called reverse as I am moving down not up with my strikes).
Looking at the chart below you can see that I am now holding puts at the lows for the last year and below those lows. In my comments on May 23 2011 I indicated the $24 strike is probably a pretty decent strike to consider long term. By staying just below $24, I know that if assigned I will be holding shares at the low for the year which should give me a very good chance in a sell off, that the stock will eventually recover to the $24 strike.
.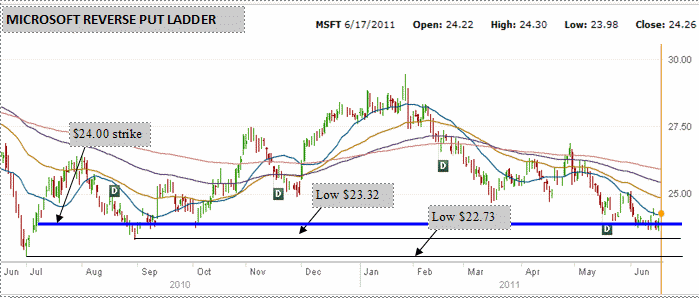 Rolling My Deep In The Money Puts
Today I also rolled my July $27 puts. The reason for doing this is because with the stock at $24.00 and just 1 month to go I may find that the stock is assigned to me before I want to take possession. By rolling now I avoid that or if assigned after rolling, at least I have earned more income from the roll
Meanwhile though usually I roll out and try to reduce the number of put contracts with that roll. Unfortunately I was unable to roll out and reduce the number of contracts from 6 puts to 5 puts without taking a net debit. Therefore, instead I rolled out to January 2012, but lower to the strike of $26.00 with the same 6 contracts. This resulted in a saving of 6000.00 in capital since I rolled down 1 strike and gave me a net credit. It also lowers the strike so this $26 now remains the top rung of the ladder.
SUMMARY
Because of the put option ladder, I am able to stay out of the money, reduce my cost basis in the stock and continue to bring in more income with every trade. Microsoft stock remains an excellent option trade and since starting this short put strategy, I have earned double digits annually for the past 3 years.