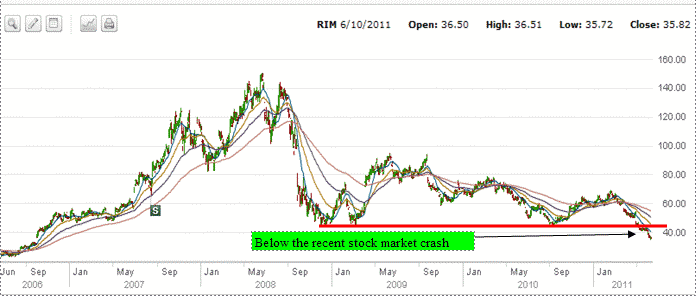 Investors who bought this stock all the way down have in fact, bought what is commonly referred to as a "falling knife" or as the slogan suggests, they have bought into a stock with a lot of downward momentum believing they have bought it near the bottom, only to find out that it "sliced" right through their prices and fell a lot further. "Falling knives" can damage a portfolio.
The truth to the collapsing of Research In Motion stock is one of perception. RIM dominated the wireless handheld market and with limited competition they quickly outpaced everyone. Their Blackberries were the "cool" tech toys of the moment and I can recall lots of my friends showing off their Blackberries. I too enjoy and still use my blackberry for stock trades, messaging, web surfing, GPS, scheduling and reminders and lots more. They have security that outpaces any of their competitors.
Remember when "Crackberry" was the slang used to describe users totally addicted to their Blackberry devices. I remember friends developing carpal tunnel syndrome from typing so much and so quickly. Without question, this was a market that Blackberry dominated. But while Research In Motion owner Jim Balsille spent time trying to buy an NHL Team and the company itself seemed focused on other things and not their core business, Apple developed and released the IPHONE which they promoted as "THE COOLEST" tech toy to have. Not only did Research In Motion ignore the Apple competition, but they seemed oblivious to all the other market entrants including the Android.
The perception on Research In Motion is that it is holding a declining market share and will end up like Palm or a dozen other companies that fell by the wayside. The perception is that RIM's products cannot compete and are not the "cool" tools.

RIM must change this perception. Remember the days of "Crackberries" and even US President Obama commenting on how he couldn't "live without his Blackberry". RIM has done a terrible job defending its turf. When you are number 1 its hard to stay number 1 and it requires focus and being consistently smarter than the "other guys". RIM has failed miserably in bringing to the attention of consumers and business all the terrific features and security levels that are way above competitors. Now they face an enormous uphill battle.

RIM's stock has followed the decline in RIM's popularity all the way down. It will be a very difficult battle to regain the lost market share and momentum and the majority of investors are indicating by dumping shares that they doubt this can be accomplished. My own personal opinion is that it is indeed difficult for most companies to recover market share and a return to the lofty share prices that once defined RIM.
TRADE SUMMARY
As I indicated in my previous posting on Research In Motion stock - RIM was never a stock for the buy and hold investor and should never have been sold to investors as such. It has always been a stock for traders and option investors. The volatility of RIM is excellent for option premiums and makes trading the stock profitable. It can and has been a graveyard for many buy and hold investors.

I believe it is important to understand that RIM not only dropped the ball, but they didn't even want to play the game. Let's hope for RIM's sake that it is just half time and they can get back in the game.