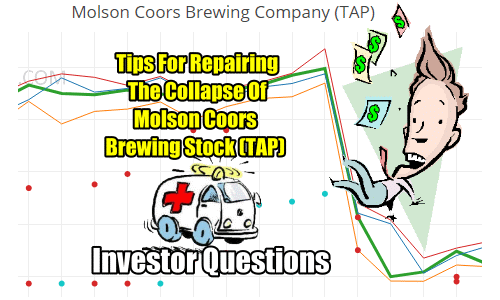 I have a larger article on ideas for repairing Molson Coors Brewing Stock (TAP) collapse but I know investors could use some help now. Here are a few answers that might be useful while waiting for me to post the larger article this weekend.
On the private members forum an investor wrote for some help. Let's look at his question which is typical of those I have received and post some answers.
Investor Questions:
First, thanks for all your valuable lessons regarding trading selling puts. It has been a great experience for me: entertaining with a high rate of return. Sometimes thoough, we need to reapair a tade. That is the case for me now with TAP. I sold 10 puts, strike 75 with protection at 60, July 20, 2018. The stock is now around 60. My question is: Should I roll down and forward and keep trading TAP or should I make a loss in TAP and change to another stock to try to recover my loss?? I have read that TAP is going to have a difficult 2018 and, in general, investors don´t expect that the stock will recover much. What would you do in my case Teddy?
Thank you
JCDC
This strategy discussion article is for FullyInformed Members.
Tips For Approaching The Collapse Of Molson Coors Brewing Stock (TAP) – Investor Questions – June 1 2018
---
---
Disclaimer: There are risks involved in all investment strategies and investors can and do lose capital. Trade at your own risk. Stocks, options and investing are risky and can result in considerable losses. None of the strategies, stocks or information discussed and presented are financial or trading advice or recommendations. Everything presented and discussed are the author's own trade ideas and opinions which the author may or may not enter into. The author assumes no liability for topics, ideas, errors, omissions, content and external links and trades done or not done. The author may or may not enter the trades mentioned. Some positions in mentioned stocks may already be held or are being adjusted.
Recommended Reading: