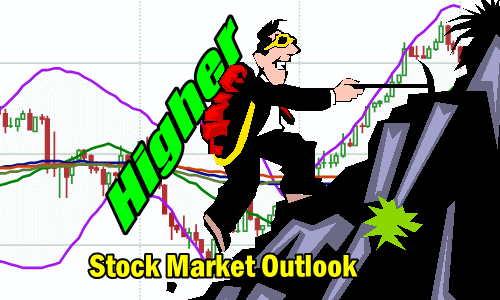 Tuesday saw the indexes take a breather after two strong rallies, on on Friday to end the month of March and one on Monday to start the month of April.
Today was a day to retest for support, check up on just how strong or weak sellers are and adjust positions for the next move higher.
---
Stock Market Outlook Chart Comments At The Close on Tue Apr 2 2019 
The S&P closed above the 21 day moving average again on Tuesday and at the Upper Bollinger Band leaving behind a bullish candlestick for Wednesday.
The Bollinger Bands Squeeze is beginning to end which is signaling a move higher for the index.
All major moving averages are back where they belong and the 50 day and 100 day are both moving away from the 200 day.
The Lower Bollinger Band is below the 100 day moving average at the close of trading today, another bullish signal. It will fall below the 200 day moving average either Wednesday or Thursday which is another bullish signal.
The SPX looks ready to continue its advance and tonight we got a new up signal from MACD which is discussed further into the article.

Stock Market Outlook: Technical Indicators Review:

Momentum: Momentum is positive and unchanged. We should see it rise on Wednesday.
Settings: For momentum I use a 10 period when studying market 

direction

.
MACD Histogram: MACD (Moving Averages Convergence / Divergence) issued a down signal on Friday March 22 2019. On Tuesday April 2, we received an unconfirmed up signal. We may get a confirmation as early as tomorrow. This is an important event and sets the stage for the index to retake 2900 and push beyond it. Friday's jobs numbers are now pivotal for a move beyond 2900 by next week.
Settings: For MACD Histogram, I am using the Fast Points set at 13, Slow Points at 26 and Smoothing at 9. 
Ultimate Oscillator: The Ultimate Oscillator signal positive and is rising.
Settings: The Ultimate Oscillator settings are: Period 1 is 5, Period 2 is 10, Period 3 is 15, Factor 1 is 4, Factor 2 is 2 and Factor 3 is 1. These are not the default settings but are the settings I use with the S&P 500 chart set for 1 to 

3 months

.
Slow Stochastic: The Slow Stochastic has an up signal in place.
Settings: For the Slow Stochastic I use the K period of 14 and D period of 3. The Slow Stochastic tries to predict the market direction further out than just one day.
Relative Strength Index: The RSI signal is rising.
Settings: The relative strength index is set for a period of 5 which gives it 5 days of market movement to monitor.  It is often the first indicator to show an overbought or oversold signal.
Rate of Change: The rate of change signal is rising indicating higher prices are coming for equities.
Settings: Rate Of Change is set for a 21 period. This indicator looks back 21 days and compares price action from the past to the present. With the Rate Of Change, prices are rising when signals are positive. Conversely, prices are falling when signals are negative. As an advance rises the Rate Of Change signal should also rise higher, otherwise the rally is suspect. A decline should see the Rate Of Change fall into negative signals. The more negative the signals the stronger the decline.
---
---
Support Resistance Levels To Be Aware Of:
2900 is strong resistance
2860 is resistance
2830 is light support
2800 is strong support
2795 is light support
2745 to 2750 is light support
2725 is light support
2700 is light support
2675 is light support
2650 is support
2625 is light support
2600 is support.
There was good support at the 2550 level which is back to being support.
The 2500 level is support.
The S&P has light support at 2480 and better support at 2450.
There is good support at 2425.
Below that there is some support at 2400, 2380, 2350.
2300 has the most support at present but would represent a full correction of 641 points as a drop to this level would be 21% and just 5% away from a full bear market signal ending the bull market from 2009.
---
Stock Market Outlook for Tomorrow – Wed Apr 3 2019 
The S&P retested the 2860 level for support today and it held up nicely.
Wednesday will see the S&P move higher. The technical indicators are all supportive of a move higher. MACD issued an unconfirmed buy or up signal today which also supports the next push to the 2900 level. This is extremely important. The up signal is strong enough to push the index beyond 2900 to perhaps 2950 within a couple of weeks. On Friday, the non-farm payroll numbers may end up being pivotal so don't forget to setup a trade ahead of those jobs numbers. I will be posting my trade layout tomorrow.
There will be some weakness on Wednesday but the close will be higher.
---
Stock Market Outlook Archives