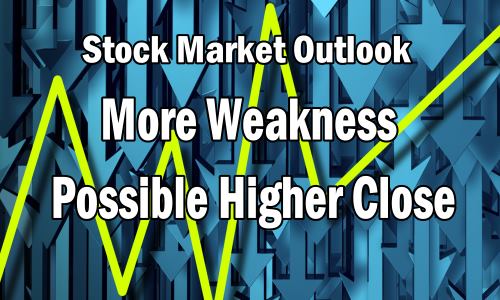 On Monday the S&P Index was trading in a fairly tight range. Weakness continued to plague the market but in general losses were still small with the S&P dipping just 15 points to close at 3949. The index closed on Monday at a strong support level, namely 3950.
The NASDAQ lost 1%, dropping 121 points to close at 11024.
Volumes on Monday were well below average as many investors are starting their Thanksgiving holiday early. We should see low volume again today and tomorrow.
Let's review the closing SPX technical indicators from Monday to see what we should expect for Tuesday.
---
Stock Market Outlook Chart Comments At The Close on Mon Nov 21 2022 
On Monday the S&P closing candlestick is below the Upper Bollinger Band and the 200 day moving average but above the 21, 50 and 100 day moving averages once again. The closing candlestick is bearish for Tuesday.
The Upper Bollinger Band crossed above the 200 day on Wednesday November 16 which is a bullish signal. It is continuing to move higher.
The Lower Bollinger Band is continuing to climb, which is bullish but we need to watch the Upper Bollinger Band to be sure it continues to rise and does not fall back to form a Bollinger Bands Squeeze. That will be bearish should it occur.
A new up signal was generated on Friday Nov 11 as the 21 day moving average is back above the 50 day. This is bullish. The 21 day is continuing to rise and is nearing the 100 day moving average.
The 50 day moving average is moving lower which is bearish. The 100 day is turning sideways which is bullish.
The 200 day moving average is still falling. This is bearish.
There are 6 down signals in place since April and one up signal.
The chart is 55% bullish for Tuesday.
Stock Market Outlook: Technical Indicators Review:

Momentum: Momentum is falling and positive.
Settings: For momentum I use a 10 period when studying market 

direction

.
MACD Histogram: MACD (Moving Averages Convergence / Divergence) issued an up signal on Thursday Oct 16. On Monday the up signal lost further strength but remains with a strong up signal. The histogram also has a positive signal.
Settings: For MACD Histogram, I am using the Fast Points set at 13, Slow Points at 26 and Smoothing at 9. 
Ultimate Oscillator: The Ultimate Oscillator is rising.
Settings: The Ultimate Oscillator settings are: Period 1 is 5, Period 2 is 10, Period 3 is 15, Factor 1 is 4, Factor 2 is 2 and Factor 3 is 1. These are not the default settings but are the settings I use with the S&P 500 chart set for 1 to 

3 months

.
Slow Stochastic: The Slow Stochastic has a down signal in place with overbought readings.
Settings: For the Slow Stochastic I use the K period of 14 and D period of 3. The Slow Stochastic tries to predict the market direction further out than just one day.
Relative Strength Index: The RSI signal is rising.
Settings: The relative strength index is set for a period of 5 which gives it 5 days of market movement to monitor.  It is often the first indicator to show an overbought or oversold signal.
Rate of Change: The rate of change signal is falling but still positive.
Settings: Rate Of Change is set for a 21 period. This indicator looks back 21 days and compares price action from the past to the present. With the Rate Of Change, prices are rising when signals are positive. Conversely, prices are falling when signals are negative. As an advance rises the Rate Of Change signal should also rise higher, otherwise the rally is suspect. A decline should see the Rate Of Change fall into negative signals. The more negative the signals the stronger the decline.
---
---
Support and Resistance Levels To Be Aware Of:
4100 is resistance
4090 is resistance
4070 is resistance
4050 is resistance
4030 is resistance
4025 is resistance
4000 is resistance
3975 is resistance
3965 is resistance
3950 is resistance
3925 is light support
3900 is light support
3875 is light support
3850 is light support
3825 is light support
3800 is good support
---
Stock Market Outlook for Tomorrow – Tue Nov 22 2022 
For Tuesday there are weaker signals again from the technical indicators. The Ultimate Oscillator is the only indicator that is back climbing higher. All the other indicators are losing strength or pointing lower.
Despite this, the market continues to show signs that it is waiting for an impetus of some kind that will get investors back into buying stocks. At present investors are not interested in selling out of positions recently bought but they also do not want to apply additional capital to trades. In this environment, markets are drifting. For Tuesday the signs are unchanged but stocks could jump at any time on any "good news", especially on the inflation "war" by the Fed.
For Tuesday expect weakness to continue and another lower close is possible but a move higher is just as likely at present for the close.
Shortened Week
This week is shortened due to the Thanksgiving holiday. Since 1974 the week leading to Thanksgiving has ended with stocks higher 78% of the time. Markets close Thursday and are open half a day on Friday. Expect very low volume and not much movement on Friday.
Black Friday Membership Special
I have received emails wondering if there will be a Black Friday Membership Special again this year. There will be a special starting later this week.
Potential Economic and Political Market Moving Events
There are no economic reports on Tuesday of any significance but on Wednesday there are a number of reports including consumer sentiment, durable goods, Weekly Initial Unemployment Insurance Claims, 5 year inflation expectations and at 2:00 PM we get the FOMC minutes. Watch for Wednesday to be a choppy day of trading ahead of Thursday's Thanksgiving holiday.
Stock Market Outlook Archives