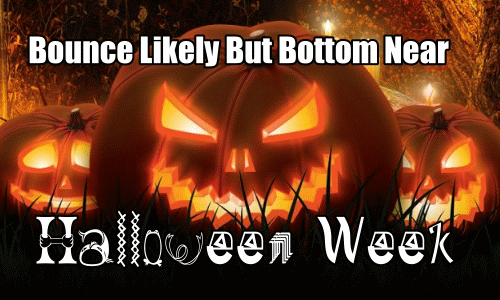 Another day of selling on Wed Oct 28 2020, had the media abuzz and many other investors joining in the selling. Big down numbers in general tend to draw in sellers and as stocks fall even further it always draws in more sellers which makes the downturn worse. Many seasoned investors will advise that they take the day off when stocks plunge and don't check the outcome until the evening and then make decisions on what to do next.
Corrections are also important as they "reset" a rally and help to defuse strongly overbought markets. For weeks the current market has been climbing almost exclusively on momentum. As pricing models show on many stocks, a lot were and many still are, overvalued particularly considering the present economic environment. This is why today, just as we saw on October 19, many over priced stocks dropped quickly as investors took profits. At the same time, many stocks are still overvalued however with much of the market lower, a bottom is near.
---
Stock Market Outlook Chart Comments At The Close on Wed Oct 28 2020 
Wednesdays chart shows the index closed below the 100 day moving averages.
It left behind a long red candlestick which almost always points to a potential bounce. The close below the 100 day is also almost always followed by a bounce.
As well note how the Upper Bollinger Band is turning up, not down. It is rare when it turns down unless there is a lot more downside to come. As well the Lower Bollinger Band has fallen back to the 100 day, ending the Bollinger Bands Squeeze for now. That is also a bullish signal for a potential bounce.
The 21 and 50 day moving averages are falling which is bearish but the 200 and 100 are climbing climbing which is bullish.
The last large dip back in September which you can see in the chart, ended with a dip below the 100 day. We are probably going to see the same bounce this time around as well.
With the elections still 5 days away and probably several days or weeks after that until all ballots are counted, we could see a bounce, an attempt to climb and then a wash out day to the 200 day moving average.  A move to 3200 would be a 388 point correction for a drop of 10.8%, which is a normal correction in a bull market.
Stock Market Outlook: Technical Indicators Review:

Momentum: Momentum is falling, negative and very oversold.
Settings: For momentum I use a 10 period when studying market 

direction

.
MACD Histogram: MACD (Moving Averages Convergence / Divergence) issued a down signal on Oct 25. On Wednesday the down signal was stronger. It is also showing oversold.
Settings: For MACD Histogram, I am using the Fast Points set at 13, Slow Points at 26 and Smoothing at 9. 
Ultimate Oscillator: The Ultimate Oscillator is falling and oversold..
Settings: The Ultimate Oscillator settings are: Period 1 is 5, Period 2 is 10, Period 3 is 15, Factor 1 is 4, Factor 2 is 2 and Factor 3 is 1. These are not the default settings but are the settings I use with the S&P 500 chart set for 1 to 

3 months

.
Slow Stochastic: The Slow Stochastic has a down signal in place and is very oversold.
Settings: For the Slow Stochastic I use the K period of 14 and D period of 3. The Slow Stochastic tries to predict the market direction further out than just one day.
Relative Strength Index: The RSI signal is falling and signaling oversold.
Settings: The relative strength index is set for a period of 5 which gives it 5 days of market movement to monitor.  It is often the first indicator to show an overbought or oversold signal.
Rate of Change: The rate of change signal is falling.
Settings: Rate Of Change is set for a 21 period. This indicator looks back 21 days and compares price action from the past to the present. With the Rate Of Change, prices are rising when signals are positive. Conversely, prices are falling when signals are negative. As an advance rises the Rate Of Change signal should also rise higher, otherwise the rally is suspect. A decline should see the Rate Of Change fall into negative signals. The more negative the signals the stronger the decline.
---
---
Support and Resistance Levels To Be Aware Of:
3600 is resistance
3500 is resistance
3450 is support
3400 is support
3375 is support
3300 is support
3275 is support
3200 is support
3150 is support
3050 is support
3000 is support
2975 is light support
2950 is light support
2900 is light support
---
Stock Market Outlook for Tomorrow – Thu Oct 29 2020 
Technically the chart and the indicators are flashing strongly oversold signals. Normally that points to a bounce. A better move on Thursday would be a higher open and then a drop before another stronger bounce gets underway, but that might not happen. The index is very oversold and a bounce is more likely than a further drop. Dips are always a probability after a rough day like Wednesday, but remember that a lot of investors would have sold out in the downturn and many others would have followed the crowd and got out. That almost always means a bounce is brewing and we could easily see that happen on Thursday.
The bottom to this sell-off is near even with European nations considering some restrictions and rising covid-19 cases in USA and Canada. The chance of another major economic shut down, is probably less than even 1%. As well, although there is no stimulus package at present, there will be one in the future, no matter who wins the Presidency, Congress and the Senate. This sell-off should not develop into anything similar to what was seen in late February and March during the pandemic panic.
While there is a good chance that any rebound on Thursday probably won't hold, no one can advise with any certainty what the next move may be on Thursday and Friday. But I do know that I am using the sell-off to cautiously scale into trades and bring in more cash to be ready for the next move back up which I expect we will see in November.
---
Stock Market Outlook Archives