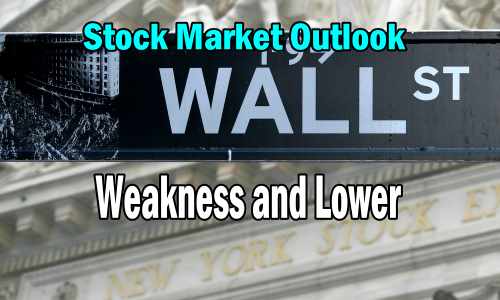 Review of Friday March 16 2018
Summary:
Friday saw markets once more on a roller coaster ride. A rally to mid-morning marked the high point of the day. The remainder of the day the S&P moved lower until the close saw the index up just 4.68 to 2752.01 but the S&P did stay above 2745 all on Friday, which it has not done on Thursday. The Dow moved higher by 73 points and is back within 54 points of 25000. The NASDAQ ended Friday, flat with a gain of just a quarter of a point.
Let's look at Friday's statistics to see what we might encounter on Monday.
---
Closing Statistics:

S&P 500 Index up 4.68 to 2752.01
Dow Jones Index up 72.85 to 24,946.51
NASDAQ Index up 0.25 to 7,481.99
---
---
Stock Market Outlook Chart Comments At The Close:
The SPX still looks stuck in a range of 2700 on the low and 2800 to the high.
The index on Friday held above the 50 day moving average and closed at it. It left behind a bearish candlestick to start of the week.
2745 was not tested. Instead the index clung to the 2750 level and closed 2 points above it.
Meanwhile the 21 day moving average is still climbing toward the 50 day moving average which is trending sideways.
The 100 and 200 day moving averages are still climbing.
The Bollinger Bands Squeeze is still in play and the Lower Bollinger Band has now risen to the 100 day moving average. If it crosses above it, that will be a bullish signal.
Often stocks will bounce off the 50 day moving average so investors should be prepared for a possible bounce higher.
Stock Market Outlook: Technical Indicators Review:

Momentum: For momentum I use a 10 period when studying market direction. Momentum is positive and unchanged.
MACD Histogram: For MACD Histogram, I am using the Fast Points set at 13, Slow Points at 26 and Smoothing at 9. MACD (Moving Averages Convergence / Divergence) issued a buy signal on March 5. The buy signal is weaker on Friday but still holding a fairly strong buy signal.
Ultimate Oscillator: The Ultimate Oscillator settings are: Period 1 is 5, Period 2 is 10, Period 3 is 15, Factor 1 is 4, Factor 2 is 2 and Factor 3 is 1. These are not the default settings but are the settings I use with the S&P 500 chart set for 1 to 3 months. The Ultimate Oscillator signal is negative and falling.
Slow Stochastic: For the Slow Stochastic I use the K period of 14 and D period of 3. The Slow Stochastic tries to predict the market direction further out than just one day. The Slow Stochastic has a down signal in place.
Relative Strength Index: The relative strength index is set for a period of 5 which gives it 5 days of market movement to monitor.  It is often the first indicator to show an overbought or oversold signal.  The RSI signal is turning up.
Rate of Change: Rate Of Change is set for a 21 period. This indicator looks back 21 days and compares price action from the past to the present. With the Rate Of Change prices are rising when signals are positive. Conversely, prices are falling when signals are negative. As an advance rises the Rate Of Change signal should also rise higher, otherwise the rally is suspect. A decline should see the Rate Of Change fall into negative signals. The more negative the signals the stronger the decline. The rate of change is positive and falling which indicates lower prices are expected.
---
Support Levels To Be Aware Of:
2745 to 2750 is light support
2710 is light support.
2700 is good support.
2675 is light support.
2650 is light support and 2620 is also light support.
There is good support at the 2550 level from where the market bounced back from the recent correction.
The S&P has light support at 2480. It also has light support at 2450 and good support at 2425. Below that there is some support at 2400, 2380, 2350. 2300 has the most support at present but would represent a full correction as a drop to this level would be 20% and just 5% away from a potential bear market signal.
---
 Stock Market Outlook for Tomorrow – Mon Mar 19 2018
Technical indicators on Friday continued to shift their focus lower. There is still just one sell signal, but now the Ultimate Oscillator has turned negative. Meanwhile all the other technical indicators are positive but weaker.
However, the S&P index managed to close slightly positive on Friday and held the 2750 level. Monday could see stocks try to rebound further.
With investors focused on the political problems out of Washington Monday looks like it could be another negative close for stocks.
Remember though, it won't take much "good news" to get stocks bouncing higher and investors rushing back in.
---
 Market Direction Internal Links
Profiting From Understanding Market Direction (Articles Index)
Understanding Short-Term Signals
Market Direction Portfolio Trades (Members)
Market Direction External Links
IWM ETF Russell 2000 Fund Info
Market Direction SPY ETF 500 Fund Info