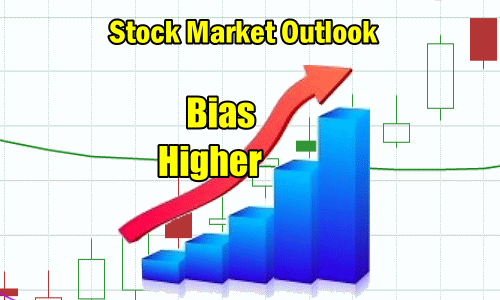 Monday saw stocks continue their advance with the S&P nearing the 3300 level, a feat I had not expected until the end of January. The market looks ahead of itself and there are signs of it being overbought.
---
Stock Market Outlook Chart Comments At The Close on Mon Jan 13 2020 
The SPX chart continues to be bullish and today's candlestick is bullish but it also a common candlestick that points to a dip coming.
The biggest concern at present is the Lower Bollinger Band rising much quicker than the Upper Bollinger Band. Instead the Upper Bollinger Band looks like it wants to turn sideways and if that happens then we could see a Bollinger Bands Squeeze this week. You can see in the chart below that the Lower Bollinger Band is now above the 50 day and preparing to enter a Bollinger Bands Squeeze. When that happens with the market grinding higher there is a good chance for a dip back to find a support level.
A lot for tomorrow though will depend on the bank earnings. If they surprise to the upside and their forward guidance is good, the market should break 3300 Tuesday or Wednesday.
f the Upper Bollinger Band dips slightly, watch for signals that the index will dip deeper and could retest the 3200 level which is very light support.
The 21 day moving average however has not wavered and is continuing to rise. It is followed by all the major moving averages as they all push higher.
The 200 day moving average is not at the 3000 level and preparing to move still higher.
There are now four support levels in place. 3200 is very light support while 3100 and 3075 are better support. The best support is down at 3000 which is 8% lower.

Stock Market Outlook: Technical Indicators Review:

Momentum: Momentum is positive and and rising while yesterday it was falling. This is really more a sideways move by the SPX.
Settings: For momentum I use a 10 period when studying market 

direction

.
MACD Histogram: MACD (Moving Averages Convergence / Divergence) issued an up signal on Friday Dec 13. At the close on Monday the signal has become positive again but just barely. Again this is a warning to be a bit cautious.
Settings: For MACD Histogram, I am using the Fast Points set at 13, Slow Points at 26 and Smoothing at 9. 
Ultimate Oscillator: The Ultimate Oscillator signal is not overbought and trending sideways for another day.
Settings: The Ultimate Oscillator settings are: Period 1 is 5, Period 2 is 10, Period 3 is 15, Factor 1 is 4, Factor 2 is 2 and Factor 3 is 1. These are not the default settings but are the settings I use with the S&P 500 chart set for 1 to 

3 months

.
Slow Stochastic: The Slow Stochastic is overbought and has an up signal in place.
Settings: For the Slow Stochastic I use the K period of 14 and D period of 3. The Slow Stochastic tries to predict the market direction further out than just one day.
Relative Strength Index: The RSI signal is rising.
Settings: The relative strength index is set for a period of 5 which gives it 5 days of market movement to monitor.  It is often the first indicator to show an overbought or oversold signal.
Rate of Change: The rate of change signal is also rising.
Settings: Rate Of Change is set for a 21 period. This indicator looks back 21 days and compares price action from the past to the present. With the Rate Of Change, prices are rising when signals are positive. Conversely, prices are falling when signals are negative. As an advance rises the Rate Of Change signal should also rise higher, otherwise the rally is suspect. A decline should see the Rate Of Change fall into negative signals. The more negative the signals the stronger the decline.
---
---
Support and Resistance Levels To Be Aware Of:
3250 is resistance
3200 is light support
3100 is light support
3075 is light support
3030 is light support
3000 is support
2960 is light support
2950 was light support
2900 is light support
2860 is light support
2840 is support
2800 is strong support
---
Stock Market Outlook for Tomorrow – Tue Jan 14 2020 
A lot of the market direction tomorrow will depend on bank earnings which are out before markets open.
Any disappointment and the market could dip back. The outlook though remains unchanged at still higher but choppy and grinding. If the index touches 3300 on Tuesday watch for selling both by investors and programs.
---
Stock Market Outlook Archives