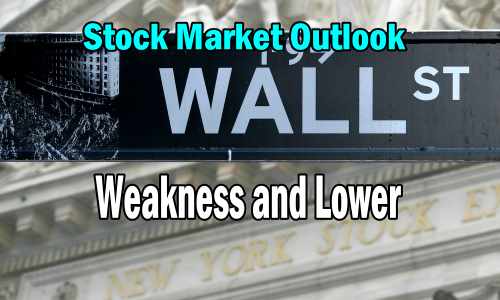 Thursday saw the stock market collapse extend into another day of wild and volatile trading, bringing to a close the Bull Market which started in 2009. This was the longest bull market in history and it has ended with a swift and sharp sell-off from all-time highs of 3393 on Feb 19 to today's close at 2480.64 for a stunning 913 point decline for a loss of 26.9%. All of this took just 16 trading days during which there were only 3 positive days.
---
Stock Market Outlook Chart Comments At The Close on Thu Mar 12 2020 
The SPX chart continues to be very bearish. The index closed the day below the 2600 and 2500 support level setting the index up for another move lower. The index is extremely oversold but there is still room for more downside.
The technical indicators have largely been ignored in the decline with only the 3000 and 2800 level slowing the decline.
The are now two sell signals in the chart and a third sell signal is about to occur. This is a major sell signal as the 21 day falls below the 200 day.
All the moving averages are now turning lower including the 200 day.
The Lower Bollinger Band is falling rapidly which is a signal for more downside this week. The closing candlestick was outside the Lower Bollinger Band indicating an extremely oversold condition.
The closing candlestick is bearish but does indicate there is a chance for a bounce on Friday but not a big one.
Stock Market Outlook: Technical Indicators Review:

Momentum: Momentum is negative and falling. It is signaling oversold.
Settings: For momentum I use a 10 period when studying market 

direction

.
MACD Histogram: MACD (Moving Averages Convergence / Divergence) issued a down signal on Friday Feb 21. The down signal was stronger again on Thursday and oversold.
Settings: For MACD Histogram, I am using the Fast Points set at 13, Slow Points at 26 and Smoothing at 9. 
Ultimate Oscillator: The Ultimate Oscillator signal is falling and slipping toward oversold readings but not there yet..
Settings: The Ultimate Oscillator settings are: Period 1 is 5, Period 2 is 10, Period 3 is 15, Factor 1 is 4, Factor 2 is 2 and Factor 3 is 1. These are not the default settings but are the settings I use with the S&P 500 chart set for 1 to 

3 months

.
Slow Stochastic: The Slow Stochastic has a strong down signal in place for Thursday and is oversold.
Settings: For the Slow Stochastic I use the K period of 14 and D period of 3. The Slow Stochastic tries to predict the market direction further out than just one day.
Relative Strength Index: The RSI signal is falling and back to being oversold.
Settings: The relative strength index is set for a period of 5 which gives it 5 days of market movement to monitor.  It is often the first indicator to show an overbought or oversold signal.
Rate of Change: The rate of change signal is falling indicating a strong move lower is still underway. It is at levels where normally a bounce can be expected.
Settings: Rate Of Change is set for a 21 period. This indicator looks back 21 days and compares price action from the past to the present. With the Rate Of Change, prices are rising when signals are positive. Conversely, prices are falling when signals are negative. As an advance rises the Rate Of Change signal should also rise higher, otherwise the rally is suspect. A decline should see the Rate Of Change fall into negative signals. The more negative the signals the stronger the decline.
---
---
Support and Resistance Levels To Be Aware Of:
3000 is resistance
2960 is light resistance
2900 is light resistance
2860 is light resistance
2840 is light resistance
2800 is strong support
2745 to 2750 is light support
2725 is light support
2700 is strong support and marks a full correction of 20.4%.
2675 is light support
2650 is support
2625 is light support
2600 is resistance
2550 is light resistance
2500 was good support and marked a correction of 26.3%
2344 is the next level of support and marks a 30.9% correction.
2100 is light support
2000 is good support and marks a 41% correction.
---
Stock Market Outlook for Tomorrow – Fri Mar 13 2020 
Following Thursday's huge plunge, it seems appropriate that Friday is the 13th.
The index looks horrific having fallen 26.9% by Thursday's close. Volumes have been strong, so despite stories of investors hanging on, a lot of investors have sold out either partially or fully, particularly in the last 2 trading days.
There is no good news on the coronavirus front despite declining numbers of infections from China. The news continues to create panic and without any clear potential solution, there are too many unknowns, which is tumbling the market.
In the chart below you can see the bull market since 2009. The next support level is 2344 just 136 points lower and that marks a 30.9% correction. That level is the lows of the October-December 2018 correction. That will be the next stop for the SPX and a bounce should be expected somewhere at that level, although this market has failed to follow technical support levels. A break of that correction means all the gains made since President Trump was elected, have been lost.
Following that level, should the selling continue, there is light support at 2100 and then at 2000, where there is a good band of support. If the S&P falls this low it will be a 41% correction. In the table below you can see the remaining two levels of support, both of which are light support.  It is not unusual for a correction of 40% to fall to a minimum of 45% that would be 1880.
Bear Markets To Remember (or forget)
A) In 1973 to 1974 which is when I started investing, the market fell 48% and the bear lasted 21 months.  This was the oil embargo great bear and recession. I lost over half of my portfolio which was being managed by a full service brokerage. I left them during the recession and took a year to study options and their use and then returned to build my portfolios.
B) In 1980 to 1982 with inflation running wild, interest rates rose to 20% and the S&P fell 27.8%. The bear lasted 21 months and saw Ronald Reagan defeat President Carter in 1980.
C) In August 1987 to December 1987 which encompassed the Black Monday crash of Oct 19 the loss was 33.5% but the bear lasted just 3 months.
D) From March 2000 to October 2002 the bursting of the dot-com bubble saw a 49.1% decline and a bear market of 30 months.
E) From October 2007 to March 2009 the credit crisis recession wiped out 56.4% and lasted for 17 months. By February 2009 the SPX had fallen to levels not seen since 1997. It was the second worst collapse in stock market history. By comparison The Great Depression saw a loss of 89.2% marking the longest bear market in US History. Over a 4 day period in 1929 the Dow Jones lost 25%.
2020 Bear Market Outlook
This brings us to the current correction which is already down 26.9%. You can see from all the above corrections that the likelihood that this correction is over is slim. This is why the outlook is for the index to continue lower and reach at least 2344, marking a 30.9% correction. For a recovery it is anyone's guess but until the economy and people return to normal, the bear could last a minimum of 3 months and as long as perhaps 17 to 21 months, based on the above bear markets. It will all depend on GDP numbers and how bad earnings are impacted going forward.
Outlook For Fri Mar 13 2020
For Friday the technical indicators are almost all signaling oversold and therefore a bounce should be expected but the market may continue to move lower first, as the panic over the coronavirus continues.
As stated before, protection is warranted especially once the 200 day moving average was broken. While at some point this correction will end, saying it, does not make up for the trauma of losses taken in portfolios.
The futures this evening are flip-flopping and have been as low as 600 points and as high as 100 points to the upside. Any bounce at this point would be a welcome sight if it lasted more than a day but the chance of that happening is slim. Sellers have to decide to buy the bounce and not sell the bounce and we have not yet seen that happen. Friday for now looks lower with a good chance the index will try to reach 2344. Fingers are crossed for this Friday the 13th that instead of another plunge, investors are tired of selling.
---
Stock Market Outlook Archives