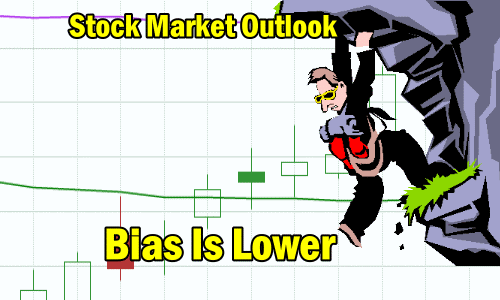 Friday saw strong non-farm payroll numbers for January which surprised even the highest estimates for job growth. Many investors wondered if the numbers were so good that it could make the Fed change their stance to less dovish on interest rates and monetary easing. At the same time, investors worried further as the number of infected and dying from the coronavirus kept rising on Friday. The markets ended their 4 days rally with some weakness on Friday. For Monday, that weakness looks set to continue. Let's review Friday's technical outlook.
---
Stock Market Outlook Chart Comments At The Close on Fri Feb 7 2020
The SPX chart is turning just a bit bearish. On Thursday the closing candlestick was a reversal which occurred. For Friday the candlestick has turned bearish for the start of the week.
This warns that we may see further dips on Monday that could be deeper than anticipated.
However all the major moving averages are still climbing higher and while there is some evidence that we could see a Bollinger Bands Squeeze this week, both the Upper Bollinger Band and Lower Bollinger Band are rising, rather than working their way toward a potential squeeze, so this is bullish.
There are four support levels in place. These are light support at 3200, 3100 which is a full 100 points lower, 3075 which is light support and 3000 which is major support.
Stock Market Outlook: Technical Indicators Review:

Momentum: Momentum is positive and rising.
Settings: For momentum I use a 10 period when studying market 

direction

.
MACD Histogram: MACD (Moving Averages Convergence / Divergence) issued a down signal on Friday Jan 24. At the close on Friday MACD issued a weak unconfirmed up signal.
Settings: For MACD Histogram, I am using the Fast Points set at 13, Slow Points at 26 and Smoothing at 9. 
Ultimate Oscillator: The Ultimate Oscillator signal is rising.
Settings: The Ultimate Oscillator settings are: Period 1 is 5, Period 2 is 10, Period 3 is 15, Factor 1 is 4, Factor 2 is 2 and Factor 3 is 1. These are not the default settings but are the settings I use with the S&P 500 chart set for 1 to 

3 months

.
Slow Stochastic: The Slow Stochastic has an up signal in place for Monday but is again, overbought.
Settings: For the Slow Stochastic I use the K period of 14 and D period of 3. The Slow Stochastic tries to predict the market direction further out than just one day.
Relative Strength Index: The RSI signal is falling.
Settings: The relative strength index is set for a period of 5 which gives it 5 days of market movement to monitor.  It is often the first indicator to show an overbought or oversold signal.
Rate of Change: The rate of change signal is also falling.
Settings: Rate Of Change is set for a 21 period. This indicator looks back 21 days and compares price action from the past to the present. With the Rate Of Change, prices are rising when signals are positive. Conversely, prices are falling when signals are negative. As an advance rises the Rate Of Change signal should also rise higher, otherwise the rally is suspect. A decline should see the Rate Of Change fall into negative signals. The more negative the signals the stronger the decline.
---
---
Support and Resistance Levels To Be Aware Of:
3350 is resistance
3200 is light support
3100 is light support
3075 is light support
3030 is very light support
3000 is good support and if the S&P fell this low it would mark a normal correction in a bull market
2960 is light support
2900 is light support
2860 is light support
2840 is good support
2800 is strong support
---
Stock Market Outlook for Tomorrow – Mon Feb 10 2020 
For Monday we we will see some deeper dips as investors are bound to worry about the continued increase of coronavirus cases. We could though see some investors not as worried about the Fed as indications late Friday was some concern from the Fed on the potential for the coronavirus to stall global growth. That could mean a continued dovish stance by the Fed who will not want to "rock the boat" when it comes to the domestic economy. Therefore any weakness on Monday may only last for the start of the week.
So while Monday has a bias lower, the bull is very much intact and just on hold for the moment, before pushing stocks higher shortly.
---
Stock Market Outlook Archives