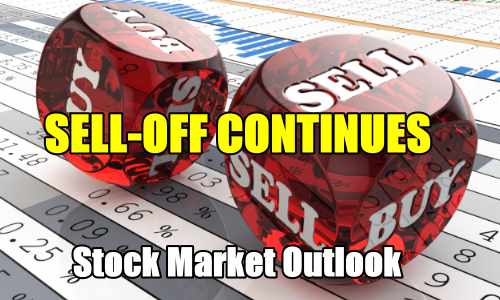 What Happened On Mon Feb 5 2018

Unfortunately the outlook for stock indexes to move lower was the end result of Monday as the Dow made a historic plunge, in points not percentage, and the S&P and NASDAQ were not far behind. The S&P is now down 7.7%.

---
Closing Statistics for Mon Feb 5 2018

S&P 500 Index Close
The S&P index ended down 113.19 to 2648.94 for a loss of 4.10%
Dow Jones Index Close
The Dow Jones ended down 1175.21 to 24,345.75 for a loss of 4.60%
NASDAQ Index Close
The NASDAQ closed down 273.42 to6967.53 for a loss of 3.78%
---
---
Stock Market Outlook – Review of Mon Feb 5 2018

Chart Comments At The Close:
For today there is no need for the technical indicators as they are all deeply oversold. MACD is down to negative 16.49 which is very negative. It can move lower. Basically we have sell signals across the technical indicators.
The market is down 7.7% from the all-time high set just a week ago Monday on Jan 26 at 2872.87. The collapse on Friday left the S&P below the 21 day moving average and approaching the 50 day. Today's plunge which was much bigger, took out the 50 day moving average easily and moved to the 100 day at 2648.94. The chart is bearish. The 21 day is turning lower. The Upper Bollinger Band is turning lower and the Lower Bollinger Band is also turning lower.
---
Support Levels To Be Aware Of:
2700-2710 was broken through. This was the 50 day moving average.
2675 was light support and broke on Monday but might be revisited although it seems unlikely immediately.
2620 is light support and will not hold up determine selling.
There is good support at the 2550 level which is presently the 200 day moving average. This would be a 322 point decline for an 11% loss.
The S&P has light support at 2480. It also has light support at 2450 and good support at 2425. Below that there is some support at 2400, 2380, 2350.
2300 has the most support at present but would represent a drop of 572 points for a deep correction of 20%.
---
 Stock Market Outlook for Tomorrow – Tue Feb 6 2018
Any rebound attempt will fail at this point and the market will continue to move lower. That means in my opinion we are looking at another day of losses. I think we will need to see a further drop Tuesday and then we might see a bounce attempt on Wednesday. The outlook on the weekend for Monday was for bounce attempt and then a drop to 2700 and then further selling on Tuesday and a bounce attempt Wednesday. That view has still not changed. Caution is definitely warranted in the present correction.
Understanding Corrections
To get a better idea of what the correction could end up looking like, we need only go back to January 2016 when a correction of 12.8% occurred and most analysts declared the bull market, over.
This correct saw three large dips in the S&P of 47 and 48 points daily. This was a loss of 2.2% each drop. On Jan 20 the S&P collapsed 64 points for a drop of 3.4% reaching 1812 which then saw the index recover during the day.  Today's drop in the S&P was 4.1% so basically we saw a drop as big as two of the days in January 2016's correction.
The first stage of the drop lost 268 points for a decline of 12.8%. A rally start on Jan 21 which lasted until Feb 1 but it was erratic and very choppy.
A second decline started Feb 1 and ended on Feb 11 with a loss of 137 points for 7%.
From there the S&P recovered over a period of 20 days before it closed above 2000. It did not recover 2080 until April 13. The initial correction lasted probably 31 trading days. The S&P took 46 days to get back above the major moving averages.  However, the 200 day signaled a correction on Sep 29 2015 in the midst of a correction in 2015, which was almost 4 months before the January correction.
Studying the January correction we should not expect the present correction to just "end" overnight and everything return to "normal". The chance of a V shaped recovery is very slim. Instead we are probably looking at more downside still to come which could easily reach the 200 day and lower. A correction of 15% may be where the market will stop selling and a better recovery begin. Before then though, we should see what we saw in January, namely more selling this week, a rally attempt probably Wednesday and then more selling and perhaps another new lows on Friday of this week or into the start of next week. Most corrections have a small rally back just as we saw in Feb 2016 and then a second decline which often tests the lows made by the first decline. If the lows hold the decline will end and the market will begin a rather lengthy recovery.
After the carnage we saw on Friday and again on Monday, I think the chance that the selling is finished is small. This type of decline leaves a lot of technical damage as well as wipes out investor confidence. At present investors will have lost confidence and any rally back at this point is a chance to close trades for profits and setup a few stocks trades for a quick few dollars before the selling continues again. That is the scenario I am anticipating but it would be nice to be wrong and see a quick recovery.
---
 Market Direction Internal Links
Profiting From Understanding Market Direction (Articles Index)
Understanding Short-Term Signals
Market Direction Portfolio Trades (Members)
Market Direction External Links
IWM ETF Russell 2000 Fund Info
Market Direction SPY ETF 500 Fund Info