I started Put Selling Kraft Stock back in Oct 2008 during the market crash. What a great stock is has been. By 2011 I was selling 10 naked puts each time I placed an order and half of them were already covered by the amount of income earned just from October 2008 to the end of 2010. Put Selling on Kraft Stock had been sweet. Last year Kraft broke into two distinct entitles. Kraft handles North America and Mondelez International handles outside North America. There was a lot of talk about Mondelez Stock (MDLZ) not performing and I had to decide among the two companies and picked Mondelez Stock because of the chart pattern. The trading range within Mondelez Stock looked just great for Put Selling as investors waffled back and forth over whether they liked the stock or whether Kraft Stock (KRFT) was the better deal. In the end I think Kraft Stock was the better deal for investors who wanted to buy a stock and have it appreciate because Kraft Stock moved up 26% this year to date.
Put Selling Kraft Stock
Kraft Stock (KRFT) has had a 22.6% rise and continued to perform well. For Put Selling Kraft Stock would have been fine so far this year. Just looking at the chart below you can see that the put strikes of $45, then $47.50, $50, $52.50 and now $55 would have all been highly profitable. But volatility is low so put premiums are good but not outstanding.
Put Selling Mondelez Stock
Outside North America Mondelez Stock (MDLZ) has performed about 4% lower but selling puts has been a bit more profitable as the stock is more volatility than Kraft Stock. For investors looking for easy Put Selling, Kraft Stock has definitely been easier with a very clear range. Mondelez Stock definitely is more volatile with higher put premiums but a higher chance of assignment.
Put Selling Excitement
What has me excited about Mondelez Stock is the number of institutional investors grabbing up shares of Mondelez Stock over the past several months. Since March accumulation has been steady as the institutional investors have picked up shares especially on dips but have been careful not to push the stock up quickly. You can see in the Mondelez Daily Chart below that the accumulation / distribution technical indicator shows the continual relentless buying of shares. Not only does this offer me confidence that I will not be assigned shares when put selling, but if you look at the stock you can see the steps higher in the stock. As well I do believe there is more upside left in the stock at this point and with so many institutional investors in the stock between $26 to $29, there should be more pushing behind the stock which will keep Put Selling profits rolling in for a while yet.
These "steps" in the stock are visible. Each of these steps are the Put Selling strikes I have used. You could say these are my "steps" to success. With the continual accumulation in the stock it is only a matter of time before the stock moves higher once the institutional investors have bought all they want.
During the first quarter the investment funds of shareholder activists Nelson Peltz and Ralph Whitworth indicated they had over ten million shares purchased between Jan 2 and March 28. That means they are in MDLZ around the $28.00 level. I bought 1000 shares on February 26 for $26.70 and am holding then at present without any covered calls. Another institutional investor, Southeastern Asset Management, announced in a filing that it bought 5 million shares in the last quarter as well.
Kraft Stock Accumulation / Distribution Technical Indicator
Meanwhile though. Kraft stock has done well but the accumulation / distribution technical indicator shows that since the start of the year the pattern despite moving higher has been ongoing distribution of shares. Looking at the Kraft Stock below you can see that the past three dips in the stock were also followed by distribution and not accumulation. Only recently has the stock accumulation started to turn back up but it remains in the distribution phase. Obviously some investors are using the run-up to move out of the stock. This could signal a lack of confidence by investors in the ability of Kraft to generate significantly better earnings to support higher valuations so they are taking advantage of the move higher to sell out of their positions. Indeed perhaps some are turning their attention to Mondelez Stock instead.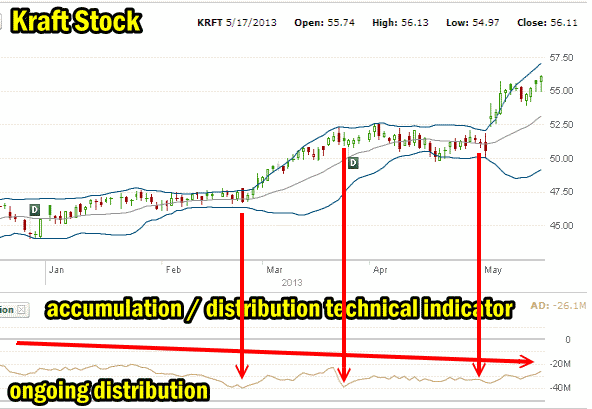 Put Selling Mondelez Stock and Kraft Stock Summary
Both stocks have had good returns through Put Selling, but I was wary of Kraft Stock for Put Selling this year when I saw the pattern of ongoing distribution whereas I saw an opposite pattern of accumulation on Mondelez Stock which is why since January I have been Put Selling this stock.
Often using even a simply tools such as the accumulation / distribution technical indicator can go a long way toward protecting your portfolio from Put Selling too many poor stocks. There is nothing worse than ending up holding naked puts on a lot of stocks that are in distribution mode but being unaware until the stock falls, that it was being dumped by investors. Stocks that are climbing are not always being accumulated. Often a climbing stock is signaling a problem when distribution of shares continues even as the stock pushes higher.
In the case of Mondelez Stock I believe the stock has higher to go which is why I have not yet sold covered calls against my shares. I also believe either stock has potential for Put Selling profits, but I think as long as accumulation of shares continues in Mondelez Stock it is better for Put Selling with less concern over the stock pulling back and leaving me assigned with additional shares.
MDLZ Stock Internal Links
Review Kraft and MDLZ Stock Trades for 2012
Review Kraft and MDLZ Stock Trades for 2012
Review Kraft Stock Trades For 2011
Review Kraft Stock Trades For 2010
Review Kraft Stock Trades For 2009
Review Kraft Stock Trades For 2008
Review All Mondelez Stock Trade Strategy Articles
MDLZ Stock External Links
Review Investor Relations for Mondelez Stock
Mondelez Stock Investor Contact
Internal Stock and Option Trades Links
Put Selling Strategies For Members
Covered Calls Strategies For Members
Profit And Income Strategies Index
Stock and Option Strategies For Members
Stock And Option Trades Explained For Members
Ask A Question About A Trade You Are In