Regular readers of FullyInformed.com know that I use the Weekly Initial Unemployment Insurance Claims as a market timing system. This market timing system has a proven track record which I have benefited from for years. For anyone unaware of this system you can read how this market timing system works through this link. You can also review all the market timing articles through this index and finally, you can review all the weekly unemployment market timing system through this category.
May 1 2014 Weekly Initial Unemployment Insurance Claims
The number of Americans filing new claims for unemployment benefits rose to 344,000 according to the Labor Department. While some of this could easily be the result of the non-participating long-term unemployed returning to look for work, there are indications that employers are continuing to be hesitant about new hirings. In general hiring is well below normal and continues to show concern among employers. The latest revenue figures from the S&P show that less than 2% of companies have managed to beat revenue estimates. Earnings estimates however have been beaten by 68% of companies who have reported their quarterly results to date. This shows that while revenue is not growing this past quarter, earnings are growing through cost cutting measures and currency trades.
This is confirmed by the GDP figure from April 30 showing the period from January through to March grew by just 0.1 percent. In other words, no real growth. While this is being blamed on the severe winter weather there are other concerns still including the fact that in general layoffs are now 40% below their peak in 2009 whereas with other recoveries from recessions, normally layoffs are 60% below recession peaks. That means a high number of the unemployed are continuing to experience difficulty findings jobs.
The other important reading on the Weekly Initial Unemployment Insurance Claims is the four-week moving average for new claims. That number continues to rise moderately but is now up to 320,000.
Trading Based on Weekly Initial Unemployment Insurance Claims
While the numbers from today signal that a broad-based collapse or topping of stocks at present is extremely limited the Weekly Initial Unemployment Insurance Claims is reaching close to the 350,000 cut off area. The numbers from today would indicate that stocks could see additional volatility. At the same time it is difficult to determine how much the increase in the Weekly Initial Unemployment Insurance Claims is being affected by the return of the non-participating group into the job market. One of the more difficult aspects of today's number to figure is with the GDP from the last quarter showing almost no growth, this could also be why the numbers today are rising.
Trading Chart
Below is my chart which shows the trading pattern I follow based on the Weekly Initial Unemployment Insurance Claims. We can see that as we near 350,000 the chance of more volatility continues to grow. Next week's numbers for employment will be important.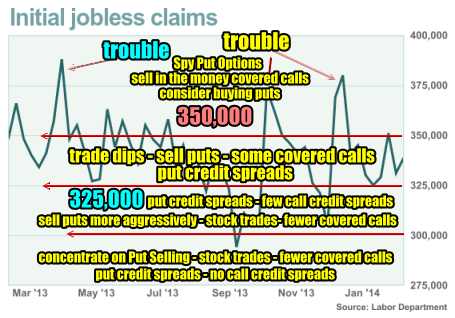 Market Direction Outlook Then Is…
With the Federal Reserve continuing to remove liquidity and the market direction pushing hard to set new highs, I have to question the possibility of a more prolonged correction in the spring to summer months. It is great to see the market direction push higher but at the same time, to stay higher stocks must provide better revenue numbers otherwise we will all be trading against stocks with price to earnings ratios way beyond what is considered historical normal.
I realize that today many analysts look upon the price to earnings ratios as "old school" or an out-dated mode of determining true valuation. In my opinion after almost 40 years now of investing, I still believe that valuations have to be compelling enough for investors to risk capital and that means reasonable valuations. Today's valuations based on revenue earned for the majority of stocks is too high unless revenue can improve by around eight percent. An eight percent rise in revenue would reduce the price to earnings back to historic norms and give stocks more room to the upside.
Therefore today's 344,000 Weekly Initial Unemployment Insurance Claims as far as a market timing system is concerned is a signal to be somewhat cautious and look for opportunities to enter trades and take smaller profits rather than chase stocks.
Internal Market Direction Links
Profiting From Understanding Market Direction (Articles Index)
Understanding Short-Term Signals
Market Direction Portfolio Ongoing Trades (Members only)