With the market direction pushing back above 1600, does this signal the end of the recent correction and a beginning of a new rally higher?  It's certainly tough to tell as pert of the problem is the lower volumes which makes it easier for the markets to push up or down quicker. But then, that's just another reason Put Selling is such a great investment strategy. No matter what happens to the market direction I can pick from my watch list of stocks and select those that are the strongest to keep Put Selling against. These include Microsoft Stock, Clorox Stock, Johnson and Johnson stock, Intel Stock, Aflac Stock and many more.
Market Direction Action Intraday
Looking at the 3 month daily chart of the S&P 500 below, you can see what I am busy watching.
A. The S&P is struggling now to break back above the 50 period exponential moving average (EMA) to offer more proof that the rally is "for real" and has not been just a trading opportunity. Personally, I am in the trading opportunity camp but a lot depends on revenue growth in the next round of quarterly announcements soon to begin.
Meanwhile the 1600 level remains the first line of defence and it was overcome yesterday. The S&P will have to stay back above it to convince many investors to come back to the market. The blue arrows show the support levels that have tested the 1600 level. You can see how back in April, 1600 was resistance and then at the end of April it was finally broken through.
Since then though 1600 has only been tested twice. The first time was June 6 which I have marked with a blue arrow pointing up. The problem though was that after that rest of 1600, the S&P basically put in a lower high and then sold off down to point B which was well below 1600 and ended below the 100 period exponential moving average (EMA). This makes the present rally very suspect. Often this type of 3 day rally can end in a trap for those who have bought into this rally.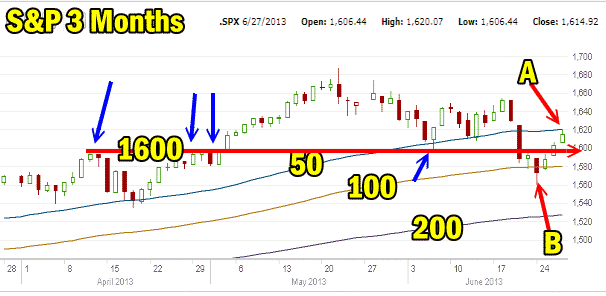 Outlook Hazy
I cannot tell you what to expect, as my technical indicators are short-term only. Right now MACD is screaming that this is a trap. The Rate of Change which remained negative yesterday despite two days of market direction movement higher reflects that a lot of investors are wary of this 3 day rally. It will be interesting to see what happens with the market direction technical indicators at the close.
The outlook is definitely hazy. There are lots of warning signs which means for a lot of investors they are on the sidelines. The problem for many of these investors is every day they see stocks push up. They become more anxious as the fear they are missing out on buying near the bottom of the biggest correction so far this year. Even today prices are pushing higher and I am getting more emails wondering about getting back into this market.
Put Selling Market Direction Outlook
Somehow the market direction has to establish a clear signal that the rally will start anew here and set new highs. There is no point in having a rally that cannot move to higher highs. You therefore have to ask yourself, what will move the market direction higher and keep it there. I am a strong believer in revenue growth, even more than earnings. Stronger revenue in general will translate into better earnings which can create lower Profit To Earnings percentages and higher prices for stocks. I am therefore watching for those earnings in the upcoming quarter.
But Put Selling out of the money on stocks I would own if I was assigned, continues to generate excellent returns. I stay with stocks that are in longer term uptrends like JNJ Stock, MSFT Stock, AFL Stock and for my fellow Canadians the Canadian Banks and more recently I have accumulated puts on Fortis Energy (FTS) which trades only on the Toronto Stock Exchange.
Rescue Strategies and Cash Back
By keeping cash back and not going "all in" I never have to worry about this type of market. I always know at the time of placing my trade what my rescue strategy is for the stocks I am put selling against. The article I wrote recently on McDonalds Stock and Put Selling in a downturn is a good example of a very simple strategy that has worked exceptionally well in bear markets, let alone a correction such as we have seen recently.
For many investors though, they have no interest in owning stocks when they sell puts. It's a great strategy but it needs careful planning. In this environment I prefer to stay with large cap, dividend payers that have a good track record of performing well in corrections. Then I sell puts out of the money, often for less than 1% a month and close early for profits or at the first sign of trouble. When the goal is to not own shares, you have to be aware that stocks can turn around and fall quickly. The goal is earn income but not ever own stocks. That means closing for profits quickly and careful stock selection.
Apple Stock
I just want to mention that I have followed Apple Stock daily for the past few months. For all those who have written to me and are waiting for some advice I have held back as I want to see if a new trading range develops so I can establish different strategies to assist in income generating or in the case of those holding stock at higher prices, valuation reductions. I will be working on finalizing my strategies next week and will be in touch then.
Intraday Outlook Summary
Intraday then, all eyes are on the 50 period exponential moving average (EMA) and watching for any signs that this is a 3 day rally and not much more. It won't be long before the answer will be known. So far my market direction outlook is hazy beyond a day or two. I look forward to see the market direction technical indicators at the close today but MACD is certainly a worry and it has not been wrong for the past two years.
Market Direction Internal Links
Profiting From Understanding Market Direction (Articles Index)
Understanding Short-Term Signals
Market Direction Portfolio Trades (Members)
Market Direction External Links
Market Direction IWM ETF Russell 2000 Fund Info